LG stellt Display mit 2560 x 1440 Pixeln vor - 538ppi!
LG hat eine Pressemitteilung herumgeschickt, in der man sein neues High-End-Display vorstellt. Die Auflösung beträgt dabei 2560 x 1440 Pixel bei einer Displaygröße von 5,5 Zoll. Das sind rekordverdächtige 538ppi.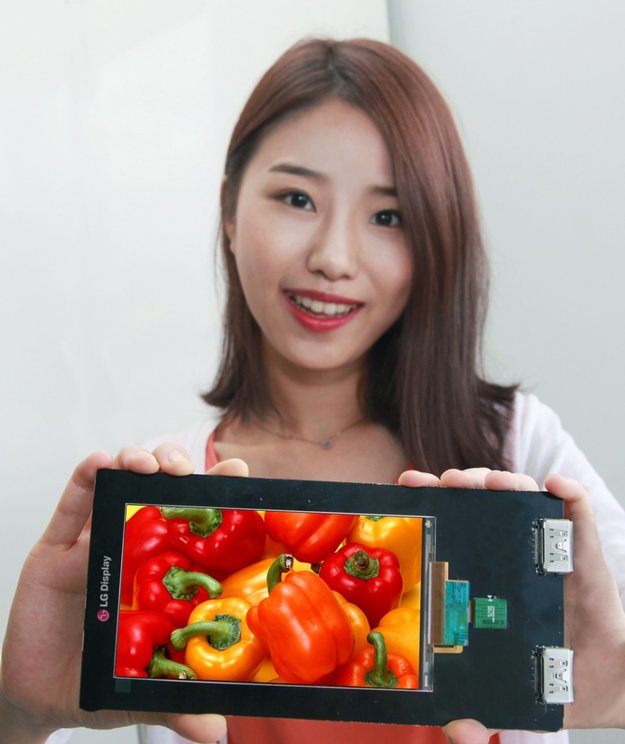 Die Auflösung des Displays wird entsprechend als QHD (also Quad-HD, vier Mal die Auflösung eines normalen HD-Displays) bezeichnet, nicht zu verwechseln mit qHD (960 x 540, einem Viertel der Pixel eines HD-Displays). Das Panel ist 1,21mm dünn und hat einen Rahmen von nur 1,2mm. (Fast) rahmenlose Displays, los gehts! Da das Display auch 12% dünner ist als das des noch gar nicht erhältlichen LG G2, sind in Zukunft auch noch dünnere Smartphones möglich.
Jetzt ist natürlich die Frage: Brauchen wir sowas wirklich? Das HTC One hat schon eine Pixeldichte von 468ppi, selbst das sehr gute Display des HTC One X hatte "nur" 312 und das iPhone 5 326. Da hören sich 538ppi natürlich wie der komplette Overkill an.
Also, was denkt Ihr? Könnt Ihr gar nicht genug ppi bekommen oder ist das alles nur noch reines Marketing?
Hier ist die komplette Pressemitteilung im Wortlaut:
LG Display Develops World's First Quad HD LCD Panel for Smartphones
New panel will deliver optimal viewing experience on larger smartphone displays
Seoul, Korea (August 21, 2013) – LG Display , a leading innovator of display technologies, announced today that it has developed the world's first Quad HD AH-IPS LCD panel for smartphones. At 2560X1440 with 538ppi, the new 5.5-inch Quad HD panel is the highest resolution and ppi (pixel per inch) mobile panel to date, and provides a glimpse at what's next after current Full HD smartphone panels, critical given the growing trend towards larger displays.
"LG Display, which pioneered the high resolution mobile market with introduction of the world's first Full HD smartphone panel in 2012, again opens new possibilities with the successful application of QHD technology," said Dr. Byeong-koo Kim, Vice President and Head of LG Display's IT and Mobile Development Group. "With this breakthrough, LG Display will continue to raise new standards for mobile resolution and lead the mobile display market."
LG Display's Quad HD panel for smartphones realizes clearer images with 4 times more pixels than HD at 1,280X720, thereby reproducing more delicate colors as well as improving contrast and vividness when compared to current mobile displays. This advancement will enable consumers to fully enjoy more life-like and crisp images, and even Blu-ray equivalent video, on their smartphones. The panel also features the highest ppi among current mobile device displays.
In addition, the new Quad HD panel will enable users to enjoy a full view of PC-version web pages at a single glance without image distortion; a contrast to current Full HD displays which only realize 3/4th of a full screen. Also, even when enlarging the screen, users will be able to enjoy undistorted and sharper text.
Only 1.21mm thin with a 1.2mm bezel measured in LCD modules (LCM), LG Display's new Quad HD panel is both the world's slimmest and narrowest panel, with 12% reduced thickness compared to the company's 5.2-inch Full HD panel released last month. Based on Low Temperature Poly-Silicon (LTPS) substrate, the panel also realizes superior brightness of 430nit with improved transmittance and larger aperture opening size.
LTPS-based smartphone displays are expected to record 765 million units in shipments next year according to research firm DisplaySearch, as displays with larger screens, higher resolution, and less power consumption prove key to competitiveness in the premium model segment.
Via Androidcentral