Dev Team veröffentlicht redsn0w 0.9.5 beta 4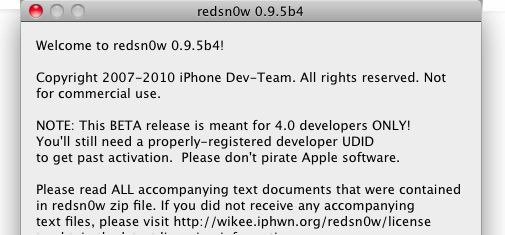 Das iPhone Dev Team hat soeben eine neue Version von redsn0w veröffentlicht, die auch mit der 4. Beta des iPhone OS 4 kompatibel ist.
Redsn0w 0.9.5 beta 4 funktioniert derzeit nur mit in Verbindung mit dem iPhone 3G, Mac OS X und Firmware 4.0 beta1 bzw. beta4.
Die neue Betaversion ist allerdings nur auf Entwickler von jailbroken Apps ausgelegt und nicht für den Endverbraucher.
Um am Aktivierungs-Screen vorbei zu kommen benötigt man eine gültige UDID von Apple.
This is a beta release of redsn0w targeted at developers of jailbroken apps. It uses the same pwnage2 DFU-mode exploit that we've been using since the 2.x days. Nothing new is revealed to Apple, and it's not applicable to the iPad. Don't go near it if you use yellowsn0w, ultrasn0w, or blacksn0w.

YOU SHOULD STAY CLEAR OF THIS BETA SOFTWARE IF YOU RELY ON A CARRIER UNLOCK. That's because the beta redsn0w works only if your device has already been upgraded to the stock 4.0beta1/beta4 IPSW from Apple, which contains a baseband update. If you installed that IPSW, you've already lost the carrier unlock until the next planned release of ultrasn0w and blacksn0w.
redsn0w 0.9.5 beta 4 kann auch im Dev Team Wiki heruntergeladen werden.