HP TouchPad: How to install CyanogenMod 7.1 [Video-Tutorial]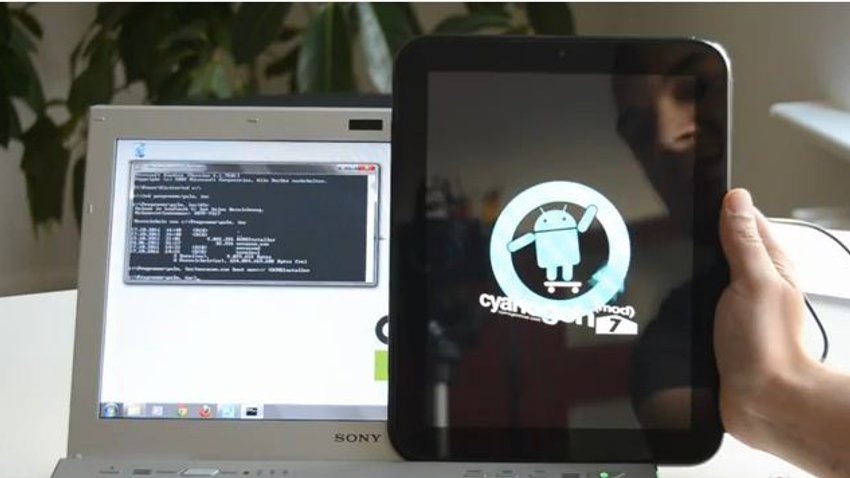 ---
Some of you out there may have got lucky in the past weeks and got their hands on one of the last TouchPads HP "flushed" out in their fire sale. If so, you have probably read the news that the CyanogenMod-Team released their CM-7.1-alpha-version a few days ago. So what are you still waiting for? In our extensive video tutorial we show you how Android is installed on an HP TouchPad.
Before we get started, two things: First, CyanogenMod 7.1 for the HP TouchPad is a very early alpha-version, which means it is not particularly stable. It works quite well as long a you're fine with some minor or major bugs here and there or even an occasional freeze or crash. Secondly, please read the following warning:
Warning: Rooting your device or applying a custom ROM, changing the bootloader or manipulating the device's system files in any way usually results in the loss of warranty. Moreover, by doing so you might damage your device permanently at worst. Please be careful and follow our tutorial step by step. Not to mention,you're doing everything at your own risk – androidnext will not take any responsibility for any possible damage to your device.
That being said, let's get started:
First you will have to download the SDK for your operating system from HP and install it. If you are running a Windows machine, the Novacom drivers alone will do: Windows 32-Bit | Windows 64-Bit
Additionally you will need these files: the ACMEInstaller, CyanogenMod 7.1 itself, ClockworkMod Recovery, and Moboot.
Unzip the ACMEInstaller-file (you can use 7zip or WinRAR) to the Novacom directory which should be located at c:Program FilesPalm, Inc.
Now connect your TouchPad via USB-cable to your PC/Mac. In the pop-up on your TouchPad choose "USB-Drive". Now a USB symbol should appear on the tablet and the device will show up as a flash drive on your computer.
Create a directory called cminstall on your TouchPad and copy the files update-cm-7.1.0-tenderloin-a1-fullofbugs.zip, update-cwm_tenderloin-1012.zip, moboot_0.3.3.zip, gapps-gb-20110828-signed.zip there. Leave these files compressed!
Now you can unmount (safely remove) the TouchPad from your computer – but don't disconnect the cable.
The TouchPad now has to be rebooted (Settings ⇒ Device Info ⇒ Reset Options ⇒ Restart). As soon as the screen goes completely black you have to press the Volume up-key and hold it until a USB icon appears.
Now you open up a command line/terminal on your PC/Mac:

Windows: start -> cmd
Linux: Programs -> system -> terminal
Mac OS X: somewhere in the system programs directory

Now navigate to the directory where the Novacom files are located. The necessary commands are:

Windows: cd c: takes you to the root directory. To navigate to the destination, simply enter cd (directory name) (e.g. cd program filesPalm, Inc)
Linux: cd(space) takes you to your home directory. Then enter cd (directory name).
Mac OS X: cd ~ (~=alt+n) takes you to your home directory. Then enter cd (directory name).

Once in the right directory enter: novacom boot mem:// < ACMEInstaller
If you did everything right, a funky flow of log messages should appear on the TouchPad's screen. Afterwards, the TouchPad will restart with the well known CyanogenMod splash screen. Now you're all set!
One big advantage of CM 7.1 is its dual boot functionality: when the TouchPad boots up, a menu appears that lets you decide which OS to boot – additionally you can boot into recovery to create backups or flash new Android-ROMs.
If a problem occurs while running CM 7.1 on your TouchPad, like for example the screen going permanently black (which happened a few times on our device) you can always reboot the tablet by pressing the power-button, the volume-down-button and the menu button simultaneously until the small HP logo appears again.
Open-Source vs. kommerzielle Software – was nutzt ihr?