PS Store Update: Aliens, Assassin's Creed DLC und mehr
Diese Woche gibt es nicht nur die erste Episode von The Walking Dead kostenlos im PS Store. Sony hat jetzt die Liste der neuen Inhalte für PS3 und Vita Besitzer veröffentlicht.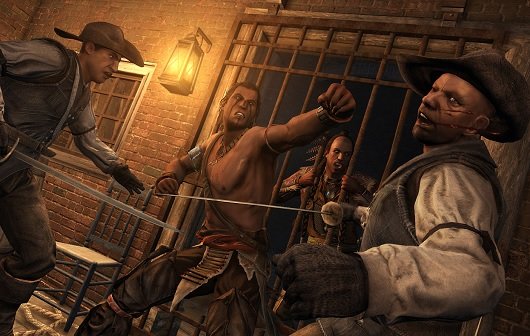 Unter anderem gibt es DLCs zu Aliens: Colonial Marines und Assassin's Creed 3 – mit "Der Verrat" geht hier die Zusatzkampagne "Die Tyrannei von König Washington" weiter. Als Vollpreisspiele erscheinen unter anderem Bioshock Infinite und The Walking Dead: Survival Instinct.
Hier die komplette Liste der Inhalte (via PS Blog):
PS3 games
BioShock Infinite (pre-order now, available from 26th March)
Price: £49.99/€59.99
PEGI: 18
Availability: All
Dollar Dash (trial available)
Price: £7.99/€9.99
PEGI: 12
Availability: Not available in Denmark, India, Kuwait, Qatar, Saudi Arabia, South Africa, Turkey, UAE
Port Royale 3
Price: £29.99/€39.99
PEGI: 12
Availability: Not available in Australia, Croatia, India, Israel, Kuwait, New Zealand, Qatar, Russia, Saudi Arabia, South Africa, Turkey, Ukraine, UAE
Quantum Theory
Price: £19.99/€29.99
PEGI: 16
Availability: Not available in New Zealand
The Walking Dead: Survival Instinct< /strong> (available from 22nd March)
Price: £49.99/€59.99
PEGI: 18
Availability: All
Uncharted 3: Drake's Deception Game Of The Year
Price: £24.99/€34.99
PEGI: 16
Availability: All
Warriors Orochi 3
Price: £19.99/€29.99
PEGI: 12
Availability: All
PS Vita games
Atelier Totori Plus with Bonus
Price: £34.99/€39.99
PEGI: 12
Availability: Not available in New Zealand
PS2 games
Warriors
Price: £7.99/€9.99
PEGI: 18
Availability: Not available in Germany, Kuwait
PS3 DLC
Aliens: Colonial Marines
Prices: £9.99/€12.99
Availability: All
Prices: £7.99/€9.99
Availability: All
Availability: All
Prices: £1.59/€1.99
Availability: All
Dynasty Warriors 7 Empires
Additional Weapons (£0.40/€0.49)
Edit Costume Set 1 (£0.79/€0.99)
Scenario Set 2 (£1.59/€1.99)
Edit Costume Set 2 (£0.79/€0.99)
Edit Costume Set 3 (£0.79/€0.99)
Scenario Set 3 (£1.59/€1.99)
Edit Costume Set 4 (£0.79/€0.99)
Availability: All
Guardians of Middle-Earth
Guardians of Middle-Earth – Unglob (Playable Guardian)
Prices: £1.59/€1.99
Availability: All
Hyperdimension Neptunia Victory
Histy's Laziness Prevention Set (Free)
Vert's 'Cross Cube' Weapon (£0.99/€1.19)
Availability: All
LittleBigPlanet 2
Spring Seasonal Creator Pack (re-release one week only)
Prices: Free
Availability: All
Magic 2013
Magic 2013 Complete Bundle
Prices: £21.99/€26.99
Availability: All
PlayStation All-Stars Battle Royale (Cross-Buy)
Medevil level plus Isaac Clarke and Zeus bundle (£7.99/€9.99)
Zeus (£3.99/€4.99)
Isaac Clarke (£3.99/€4.99)
Medievil Graveyard Level (£1.59/€1.99)
Availability: All
Resident Evil 6
Prices: £7.99/€9.99
Availability: All
Rock Band 3
Diamond Eyes (Boom-Lay Boom-Lay Boom) (£1.19/€1.49)
Endless Sky (£1.19/€1.49)
Jungle Boogie (£1.19/€1.49)
Never Trust The Hazel Eyed (£1.19/€1.49)
Pearls The Frailty Of Matter (£0.59/€0.75)
Shout (£1.19/€1.49)
The Brave/Agony Applause (Rb3 Version) (£1.19/€1.49)
This Is Not A Song, It's A Sandwich! (£1.19/€1.49)
Availability: Not available in Bulgaria, Croatia, Czech Republic, Greece, Hungary, India, Israel, Kuwait, Luxembourg, Poland, Qatar, Russian Federation, Saudi Arabia, Slovenia, South Africa, Turkey, Ukraine, UAE
Rocksmith
Rocksmith Blue Öyster Cult (£3.99/€4.99)
Rocksmith The Cure (Artist Pack) (£3.99/€4.99)
The Cure – Just Like Heaven (£2.39/€2.99)
The Cure – Lovesong (£2.39/€2.99)
The Cure – The End Of The World (£2.39/€2.99)
Availability: All
SingStar
One Direction – Live While We're Young
Panamah – DJ Blues
Freddie Mercury – The Great Pretender
Freddie Mercury – Made In Heaven
Freddie Mercury – I Was Born To Love You
Freddie Mercury & Montserrat Caballé- Barcelona
Freddie Mercury – Living On My Own (1993)
Prices: £1.15/€1.39
The Pinball Arcade
Add-On Pack 9 Pro: Star Trek: The Next Generation (£6.49/€7.99)
Add-On Pack 9: Star Trek: The Next Generation (£3.99/€4.99)
Pro Version Upgrade: Star Trek: The Next Generation (£3.99/€4.99)
Availability: All
PS Vita DLC
Everybody's Golf
Gloria Costume (£0.40/€0.49)
Erika Costume (£0.40/€0.49)
Everybody's Golf Bundle (£5.99/€7.49)
Mt. Sakura Country Club (£1.99/€2.49)
Mar Cielo Golf Course (£1.99/€2.49)
Northern Fox Country Club (£1.99/€2.49)
Gloria Playable Character (£0.59/€0.75)
Erika Playable Character (£0.59/€0.75)
Kat from Gravity Rush Playable Character (£0.59/€0.75)
Availability: All
PlayStation All-Stars Battle Royale (Cross-Buy)
Medevil level plus Isaac Clarke and Zeus bundle (£7.99/€9.99)
Zeus (£3.99/€4.99)
Isaac Clarke (£3.99/€4.99)
Medievil Graveyard Level (£1.59/€1.99)
Availability: All
Silent Hill: Book Of Memories
Prices: £3.19/€3.99
Availability: Not available in New Zealand
The Pinball Arcade
Add-On Pack 9 Pro: Star Trek: The Next Generation (£6.49/€7.99)
Add-On Pack 9: Star Trek: The Next Generation (£3.99/€4.99)
Pro Version Upgrade: Star Trek: The Next Generation (£3.99/€4.99)
Availability: All
Avatars
The Studio
Bob London Avatar Bundle 1
Bob London Avatar 1
Bob London Avatar 2
Bob London Avatar 3
Bob London Avatar 4
Videos
Access episode 74
Metal Gear Rising: Revengeance – Hideo Kojima interview – GB only
Big Sky Infinity patch trailer
BioShock Infinite – Lamb of Columbia
Call of Juarez: Gunslinger – reveal trailer – not available in Germany
Destiny – Pathways out of Darkness – Germany only