Serienstarts im Oktober 2016: The Walking Dead Staffel 7 & Westworld & weitere Highlights
Im Oktober geht es weiter mit dem Release neuer Staffeln und Serien. Im September konnten wir uns bereits über einige Highlights, wie Narcos Staffel 2 freuen. Im Oktober geht es mit der 7. Staffel von "The Walking Dead", der Fortsetzung der 12. Staffel von "Grey's Anatomy" und dem Start des "neuen Game of Thrones" namens "Westworld" weiter. Lest weiter und erfahrt, welche spannenden Serien euch noch erwarten.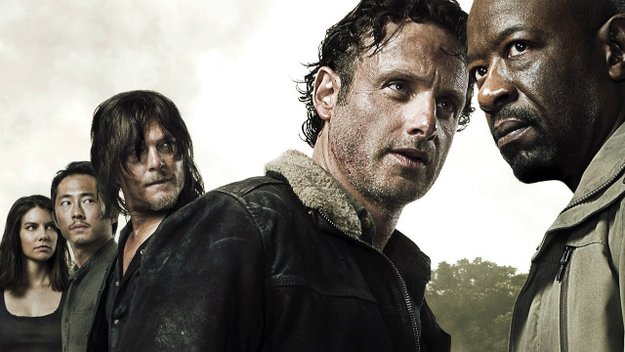 Im nachfolgenden Serienplaner findet ihr nicht nur die Deutschland-Premieren einiger Serien und Staffelstarts. Wir haben euch auch die neuen Serien und Seasons, die in den USA auf der Mattscheibe anlaufen aufgelistet.
Serienstarts im Oktober 2016
Serienstarts: Diese Serien sind neu auf der Mattscheibe:
Wann?
Welche Serie?
Wo?
2. Oktober 2016
Westworld (engl.)
Sky On Demand, Sky Go, Sky Ticket

*

9. Oktober 2016
Divorce (engl.)
Sky On Demand, Sky Go, Sky Ticket

*

Insecure (engl.)
Sky On Demand, Sky Go, Sky Ticket

*

14. Oktober 2016
Goliath
Amazon Prime
21. Oktober 2016
The Young Pope
Sky Atlantic HD
28. Oktober 2016
Good Girls Revolt
Amazon Prime
Auch interessant: Westworld – Im Herbst startet Staffel 1 der Sci-Fi-Serie auf HBO und bei Sky
Neue Folgen beliebter Serien warten auf euch:
Diese Serien starten im US-Fernsehen:
Serienstarts in den USA
In den USA geht es mit den Serien- und Staffelstarts der Fernsehsaison Herbst/ Winter 2016/ 2017 weiter. Wie ihr nachfolgend selbst nachlesen könnt, sind wieder jede Menge interessante Serien dabei, die hoffentlich den prung über den Atlantik ins deutsche TV schaffen.
| | | | |
| --- | --- | --- | --- |
| 2. Oktober 2016 | Ash vs. Evil Dead | Staffel 2 | StarZ |
| | Blunt Talk | Staffel 2 | StarZ |
| | Elementary | Staffel 5 | CBS |
| | Heartland | Staffel 10 | CBC |
| | This Life | Staffel 2 | CBC |
| | Madam Secretary | Staffel 3 | CBS |
| | NCIS: L.A. | Staffel 8 | CBS |
| | Shameless | Staffel 7 | Showtime |
| | Westworld | Staffel 1 | HBO |
| 3. Oktober 2016 | Conviction | Neu | ABC |
| | Scorpion | Staffel 3 | CBS |
| | Timeless | Neu | NBC |
| 4. Oktober 2016 | American Housewife | Neu | ABC |
| | Kim's Convenience | Neu | CBC |
| | No Tomorrow | Neu | The CW |
| | The Flash | Staffel 3 | The CW |
| | The Mindy Project | Staffel 5 | hulu |
| | The Real O'Neals | Staffel 2 | ABC |
| 5. Oktober 2016 | Arrow | Staffel 5 | The CW |
| | Frequency | Neu | The CW |
| | Fresh off the Boat | Staffel 3 | ABC |
| | The Romeo Section | Staffel 2 | CBC |
| 7. Oktober 2016 | The Ranch | Staffel 1, Teil 2 | Netflix |
| 9. Oktober 2016 | Divorce | Neu | HBO |
| | Insecure | Neu | HBO |
| 10. Oktober 2016 | 2 Broke Girls | Staffel 6 | CBS |
| | Murdoch Mysteries | Staffel 10 | CBC |
| | Shoot the Messenger | Neu | CBC |
| | Supergirl | Staffel 2 | The CW |
| 11. Oktober 2016 | Chicago Fire | Staffel 5 | NBC |
| 13. Oktober 2016 | Falling Water | Neu | USA Network |
| | Legends of Tomorrow | Staffel 2 | The CW |
| | Supernatural | Staffel 12 | The CW |
| 14. Oktober 2016 | Goliath | Neu | Amazon |
| | Haters Back Off | Neu | Netflix |
| 16. Oktober 2016 | Berlin Station | Neu | epix |
| | Graves | Neu | epix |
| | Eyewitness | Neu | USA Network |
| 17. Oktober 2016 | Jane The Virgin | Staffel 3 | The CW |
| | The Odd Couple | Staffel 3 | CBS |
| 19. Oktober 2016 | Chance | Neu | hulu |
| 21. Oktober 2016 | Black Mirror | Staffel 3 | Netflix |
| | Crazy Ex-Girlfriend | Staffel 2 | The CW |
| | The Vampire Diaries | Staffel 8 | The CW |
| 23. Oktober 2016 | The Walking Dead | Staffel 7 | AMC |
| 24. Oktober 2016 | Man with a Plan | Neu | CBS |
| 25. Oktober 2016 | Mohawk Girls | Staffel 4 | aptn |
| 27. Oktober 2016 | Life in Pieces | Staffel 2 | CBS |
| | Mom | Staffel 4 | CBS |
| | Pure Genius | Neu | CBS |
| | The Great Indoors | Neu | CBS |
| 28. Oktober 2016 | Good Girls Revolt | Neu | Amazon Prime |
| 31. Oktober 2016 | People of Earth | Neu | tbs |