MWC 2013: Das Monster namens ZTE Grand Memo angepackt
Natürlich ist auch ZTE auf dem diesjährigen MWC vertreten und wie es der Zufall will, bin ich vorhin am Stand vorbei gelaufen, wo mir ein wahrer Gigant ins Auge gesprungen ist. Die Rede ist vom ZTE Grand Memo, das ich im euch im kurzen Hands On Video gerne vorstellen will.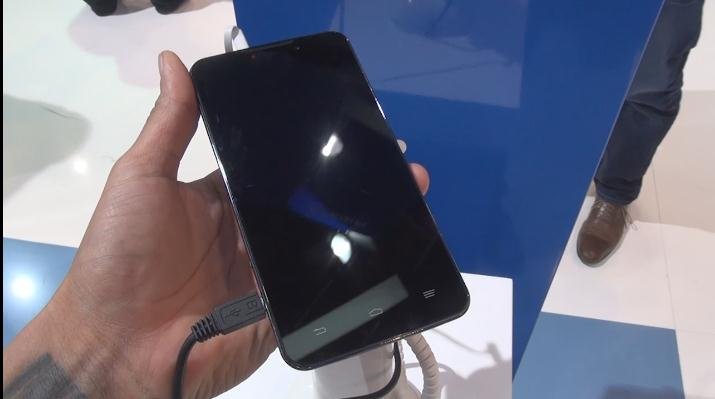 Wir haben bereits vor einiger Zeit über das selbst für ein Smartlet große Gerät berichtet, nun hatten wir die Möglichkeit, uns das Teil mal aus nächster Nähe anzuschauen. Obwohl ich ein Freund von Smartlets im Stile des Galaxy Note 2 bin, ist mir das ZTE für ein "Telefon" doch einfach zu groß und den Sprung zum vollständigen Tablet schafft das Gerät aber dann auch wieder nicht. Aber vielleicht seht ihr das ja anders. Was das Grand Memo neben dem überaus großen Display aber außerdem noch besonders macht ist, dass dies das erste Gerät mit Qualcomms neuem Prozessor namens Snapdragon 800 ist. Hier nun aber das gute Stück im Video:
Alle technischen Details zum ZTE Grand Memo könnt ihr außerdem hier nachlesen. Was haltet ihr von dem Riesen?
ZTE Grand Memo: Offizielle Pressemitteilung
BARCELONA, Spain–(BUSINESS WIRE)–ZTE has launched the ZTE Grand Memo 5.7-inch handset running on Qualcomm® Snapdragon™ 800 processors.
"The ZTE Grand Memo's large, high definition screen makes it perfect for media and entertainment, but its uses reach far beyond that"
The ZTE Grand Memo offers the ideal balance between the portability of a handset and the larger viewing and easier touch-interaction experience of a tablet. It features a 5.7-inch, high definition, 720 x 1280 display, and a powerful Qualcomm 800 processor with quad-core Krait CPUs and 2GB of RAM. Combined with a 13MP rear-facing camera, 1MP front-facing camera and 1080 HD video playback, this gives users a smooth, high quality multimedia experience that is perfect for gaming and video.
The Grand Memo caters to those who are always on-the-go, with voice-response technology which allows users to answer calls safely while driving, and A-GPS and car-mode navigation system for high quality mapping and directions. It comes with a HD version of ZTE's Mifavor user interface that is specially designed for smartphones, providing a simpler user experience, and ZTE's Z Cloud service for the security and access-anywhere provided by cloud services. It also includes a 3200mAh battery for super-long standby time.
"The ZTE Grand Memo's large, high definition screen makes it perfect for media and entertainment, but its uses reach far beyond that," said Mr. He Shiyou, ZTE EVP and Head of the Mobile Devices Division. "With ZTE's custom Mifavor UI, a powerful processor, and LTE connectivity, this device offers users a wide array of benefits that go well beyond the capabilities of the typical handset."
Qualcomm Snapdragon 800 processors target premium mobile and computing devices. They are designed to deliver outstanding overall user experience, expand the possibilities of seamless connected computing and enable brand new mobile experiences while maintaining industry-leading battery performance.
"Qualcomm Snapdragon platforms are at the heart of over 770 announced smartphones and tablets, and we are thrilled to work with ZTE to bring the Grand Memo to consumers," said Raj Talluri, senior vice president of product management at Qualcomm Technologies.
The Grand Memo is a slim 8.5mm, ensuring that its advanced performance is matched by its sleek appearance. The 1080P HD video and 13MP rear-facing Intelligent Camera, coupled with the 16GB storage memory make movie watching as sharp and detailed as the capturing of users' own multimedia. Combined with high-speed LTE capabilities of the Qualcomm Snapdragon 800 processor, integrated Qualcomm WCN3680 802.11ac/.11n dual-band Wi-Fi plus Bluetooth solution for high-bandwidth communications, MHL and DLNA connectivity for mobile entertainment, the ZTE Grand Memo is perfectly suited for both personal and office use.
"We have really tried to make this device fun for use at home, and practical for use in the office. By combining both of these factors, we have created a well-rounded large-screen handset that is suitable for any situation. It's perfect for videos, gaming and music, and also for sending e-mails, checking news and making calls on the go. For those with a busy lifestyle, the ZTE Grand Memo will be indispensable," said Mr. He Shiyou, ZTE.
Key specifications of the Grand Memo
Android 4.1 – Jelly bean
Thickness: 8.5mm
5.7inch, HD.TFT, 16M color, multi-touch capacitive screen
Qualcomm Snapdragon 800 processor with quad-core Krait CPUs
3200mAh super-long standby battery
Memory: 16GB Rom +2GB RAM
Mifavour UI user interface
WiFi 802.11 a/b/g/n, Bluetooth 4.0, accelerometer, proximity sensor, ambient light sensor, gyro
LTE 100/50Mbps
13MP Intelligent AF Camera with face recognition and panorama,1MP front-facing camera, 1080p HD video playback
The ZTE Grand Memo is on display at Mobile World Congress 2013 in Barcelona at Stand 3C64/3C74, Hall 3. ZTE Grand Memo is expected to launch the second quarter of 2013 with specifications varying between countries and regions.
ZTE is the 4th biggest handset manufacturer in the world according to IDC, a leading provider of global ICT market research and advisory services.
Hinweis: Wir sind noch bis Donnerstag, den 28.2. hier in Barcelona und werden für euch über die neuesten Produkte aus dem Mobilfunkbereich berichten. Natürlich findet ihr unsere Artikel und Videos hier auf der Seite, wer gerne noch etwas mehr zwischendrin erfahren will, kann sowohl Flavio (@xray) als auch Jens (@GIGAjensen) und mir (@HerrNicholas) auf Twitter folgen.

GIGA.de berichtet live vom Mobile World Congress 2013 aus Barcelona – mit freundlicher Unterstützung von Cyperport. Alle Informationen zum MWC 2013 auf www.giga.de/mwc.