DanceStar Party - Komplette Track-List bekannt
Tanzspiele gibt es nicht nur auf Xbox 360 und Wii, auch die Playstation 3 hat ein paar Titel für tanzfreudige Leute zu bieten. Unter anderem das neue DanceStar Party.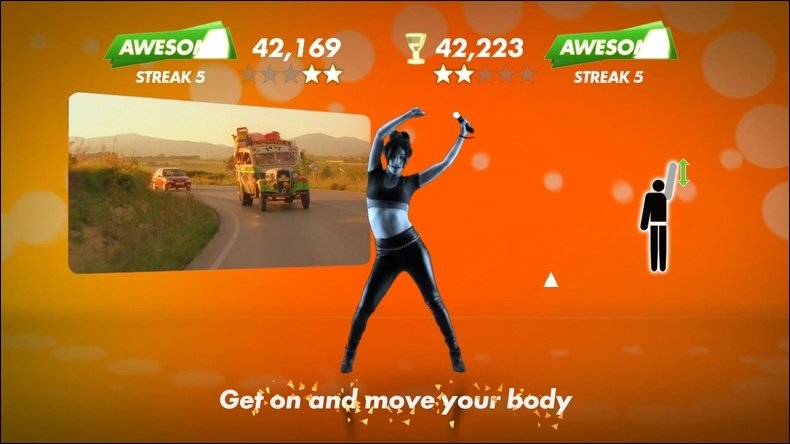 Sony gab jetzt die im Spiel enthaltenen Songs bekannt. 30 Songs umfasst die Liste und dürfte eigentlich so gut wie jeden Musikgeschmack abdecken. Mit dabei ist so zum Beispiel Deadmau5 mit Ghosts ´N´Stuff, aber auch I´m Still Standing von Elton John.
"DanceStar Party" erscheint nächsten Monat exklusiv für die PS3, die Bewegungssteuerung Move wird ebenso vorausgesetzt wie das Playstation Eye.
Amerie 1 Thing
Barry White You're The First, The Last, My Everything
Basement Jaxx Where's Your Head At
Billy Idol with Generation X Dancing with Myself
Bodyrockers I Like The Way
Carl Douglas Kung Fu Fighting
CeCe Peniston Finally
Chromeo Night By Night
Deadmau5 Ghosts 'N' Stuff (feat. Rob Swire)
Diana Ross Upside Down
Duck Sauce Barbra Streisand
Ellie Goulding Starry Eyed
Elton John I'm Still Standing
Example Kickstarts
Groove Armada feat. Gram'ma Funk I See You Baby (Fatboy Slim mix)
Ida Corr Vs Fedde Le Grand Let Me Think About It
Iggy Pop Lust For Life
Jay Sean featuring Lil Wayne Down
Jessie J Do It Like A Dude
Kool And The Gang Get Down On It
Lady Gaga Born This Way
LMFAO Party Rock Anthem
Los Del Rio Macarena
Miami Sound Machine Dr Beat
New Kids On The Block You Got It (The Right Stuff)
Nicole Scherzinger Don't Hold Your Breath
Ok Go Here It Goes Again
OutKast The Way You Move
Republica Ready To Go
Rihanna Rude Boy
SNAP!The Power
Tavares Heaven Must Be Missing An Angel
The Chemical Brothers Hey Boy Hey Girl
Tiesto v Diplo feat Busta Rhymes C'mon (Catch 'Em By Surprise)
Tinie Tempah Pass Out
Usher featuring Pitbull DJ Got Us Fallin' In Love
Usher featuring will.i.am OMG
Vengaboys We Like To Party
Willow Whip My Hair
Yolanda Be Cool vs D Cup We No Speak Americano
Stets die aktuellsten News erhalten? Follow the G auf Twitter!