Steve Jobs: Beliebtester CEO, 313 Patente, Detailvernarrt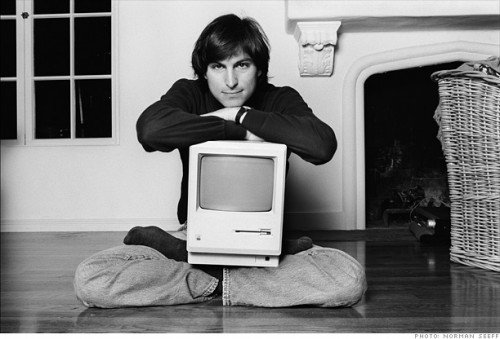 Es ist kurz vor 4 Uhr morgens im Silicon Valley. Doch an solch einem Tag dürfte es nicht nur so manchem Analysten schwer fallen, genügend Schlaf zu bekommen.Wie wird der Aktienmarkt reagieren, nachdem einer bzw. wenn nicht der erfolgreichste CEO der letzten Jahrzehnte zurückgetreten ist? Apple ist das wertvollste und vitalste Unternehmen der Welt und dies hat Apple in großen Teilen einem Mann zu verdanken. Das wissen auch Apples Angestellte. Ganze 97% befürworteteten und standen hinter Steve Jobs und seinen Entscheidungen. Wie die Webseite glassdoor.com zeigt, ist und war kein anderer CEO bei seinen Mitarbeitern beliebter. Knapp hinter Jobs rangiert Google-CEO Larry Page mit 96% auf Platz 2. Weit abgeschlagen platziert sich Microsoft-CEO Steve Ballmer, den angeblich nur 46% seiner Angestellten gutheissen.
Dieses Ergebnis dürfte wohl auch damit zu tun haben, dass Steve Jobs nunmal Apple mitgegründet hat. Er war und ist ein Mann vom Fach. Ganze 313 Patente tragen seinen Namen, darunter auch jene für Macintosh, iPod, iPhone, Apples bekannte Verpackungen und… die Konstruktion von Glasfassaden und Glasstreppen – der Aushänge-Schilder jedes Apple-Store-Designs.
Eine besondere Anekdote liefert uns Googles Vice President of Engineering Vic Gundotra über Google+:
One Sunday morning, January 6th, 2008 I was attending religious services when my cell phone vibrated. As discreetly as possible, I checked the phone and noticed that my phone said "Caller ID unknown". I choose to ignore.

After services, as I was walking to my car with my family, I checked my cell phone messages. The message left was from Steve Jobs. "Vic, can you call me at home? I have something urgent to discuss" it said.

Before I even reached my car, I called Steve Jobs back. I was responsible for all mobile applications at Google, and in that role, had regular dealings with Steve. It was one of the perks of the job.

"Hey Steve – this is Vic", I said. "I'm sorry I didn't answer your call earlier. I was in religious services, and the caller ID said unknown, so I didn't pick up".

Steve laughed. He said, "Vic, unless the Caller ID said 'GOD', you should never pick up during services".

I laughed nervously. After all, while it was customary for Steve to call during the week upset about something, it was unusual for him to call me on Sunday and ask me to call his home. I wondered what was so important?

"So Vic, we have an urgent issue, one that I need addressed right away. I've already assigned someone from my team to help you, and I hope you can fix this tomorrow" said Steve.

"I've been looking at the Google logo on the iPhone and I'm not happy with the icon. The second O in Google doesn't have the right yellow gradient. It's just wrong and I'm going to have Greg fix it tomorrow. Is that okay with you?"

Of course this was okay with me. A few minutes later on that Sunday I received an email from Steve with the subject "Icon Ambulance". The email directed me to work with Greg Christie to fix the icon.

Since I was 11 years old and fell in love with an Apple II, I have dozens of stories to tell about Apple products. They have been a part of my life for decades. Even when I worked for 15 years for Bill Gates at Microsoft, I had a huge admiration for Steve and what Apple had produced.

But in the end, when I think about leadership, passion and attention to detail, I think back to the call I received from Steve Jobs on a Sunday morning in January. It was a lesson I'll never forget. CEOs should care about details. Even shades of yellow. On a Sunday.

To one of the greatest leaders I've ever met, my prayers and hopes are with you Steve.