Moto G (2015): Press pictures leaked, Full HD Display and 2 GB RAM confirmed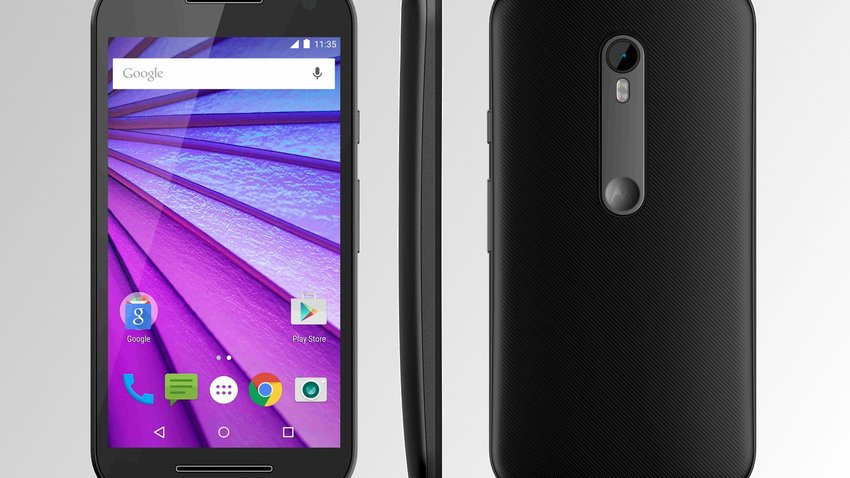 ---
Although its official presentation is due for next week, there is a constant stream of leaks regarding Motos new midrange handset. One of our readers hinted at a Swiss shop listing that shows some official press pictures and hints at some specifications: The Moto G (2015) will indeed have a 1080p screen and 2 gigs of RAM.
Swiss retailer digitec just leaked the Moto G 3rd generation. According to their product listing, Motorola's new midranger finally gets its well-deserved Full HD display upgrade. The 5 inch display has a resolution of 1920 x 1080, resulting in a display density of 441 ppi. There's also 2 GB RAM and Cat.4 LTE mentioned. Digitec only calls out a quad core processor with a maximum clock speed of 1.7 GHz and an Adreno 405 GPU, but this combination almost certainly points to a Snapragon 610 SoC. This confirms former rumors from Indian retailer Flipkart hinting at an S610, too.
We're mildly disappointed by the fact that there still seem to be only 8 GB of internal memory present that can, at least, be expanded with up to 128 GB via micro SD. According to digitec the battery is still 2,070 mAh – but this in fact could be a placeholder, because also the listed dimensions and weight (141.5 x 70.7 x 11 mm at 149 grams) are exactly the same as in its predecessor, the Moto G (2014). Digitec is going to sell the new Moto G for 235 CHF which is around 225 EUR or 245 USD, but the reason for this comparably high price could be swiss taxes – or it's just another placeholder. We are, however, almost certainly sure that the press pictures are real.
The 3rd generation Moto G will be made offical in one week and we are keen to get the rumored specs confirmed. We're hoping for another price breaker, so stay tuned for more information.
Update: Here are some pictures of the white Moto G:
Full digitec retailer listing of the Moto G 3rd generation (Screenshot)

Source: digitec.ch, (2), shoutout to our reader "thestig 7807"
Hat dir dieser Artikel gefallen? Schreib es uns in die Kommentare oder teile den Artikel. Wir freuen uns auf deine Meinung - und natürlich darfst du uns gerne auf Facebook oder Twitter folgen.