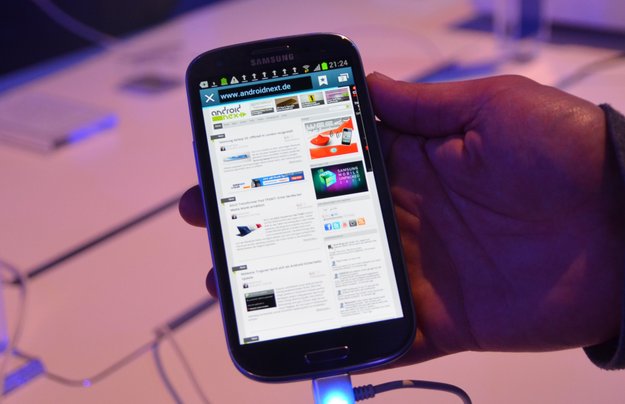 ---
For all our non-German readers and watchers: We covered the Samsung Unpacked Event and the official presentation of the highly anticipated Galaxy S3 in London last week to some extent also in English: watch our first look and a deeper hands on with Samsung's new flagship and get some first impressions about this powerful and nice looking Smartphone, that once again could become a real bestseller.
The waiting is finally over, the curtain dropped last Thursday in London, this is the much longed for Samsung Galaxy S3: Samsung presented its new device in a very emotional show, emphasizing aspects of humanity and nature that led to the creation of the S3. And the result is quite impressive – even though some of the hoped for specs, like a 1080p screen or the ceramic back cover did not make it into the final design:
One of the bigger advantages of the S3 over its competitor HTC One X is the exchangeable battery (2100 mAh) as well as the possibility to upgrade the internal memory via MicroSD cards (up to 64 GB). Regarding the look and feel of the device it will probably be a matter of personal taste, whether one will prefer the HTC device or the new Samsung Smartphone, that comes in either "marble white" or "pebble blue" flavors – although the white model did look kind of boring, we liked the back cover of the blue variant, that indeed reminded us of a peeble.
As you can read from the missing "Plus" behind the 4.8″ Super AMOLED HD screen, the S3 will most probably come with the much feared PenTile matrix. But after a first look we can assure you that the display looks fine, nonetheless.
So in a nutshell, we were quite impressed with the Galaxy S3, which overall is a very good smartphone, with enough power (quad core Exynos 4412 @1.4 GHz) for current and future apps and games, a beautiful big screen, a big battery, MicroSD capabilities and a nice (althoug not really trendsetting) casing.
Are you going to get one? Be sure to leave a comment.