Call of Duty - Black Ops 3: Kühlschrank in Collector's Edition
---
Hey ihr Collector-Fans. In der Juggernog-Edition vom neuen Call of Duty: Black Ops 3 erhaltet ihr einen Mini-Kühlschrank, wie geil ist das denn!
Call of Duty: Black Ops 3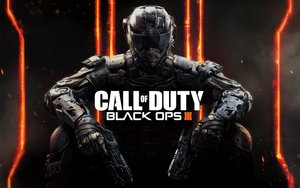 Sprachen:
Deutsch, Englisch
Plattformen:
Windows PC, Playstation 3, Xbox 360, Xbox One, PlayStation 4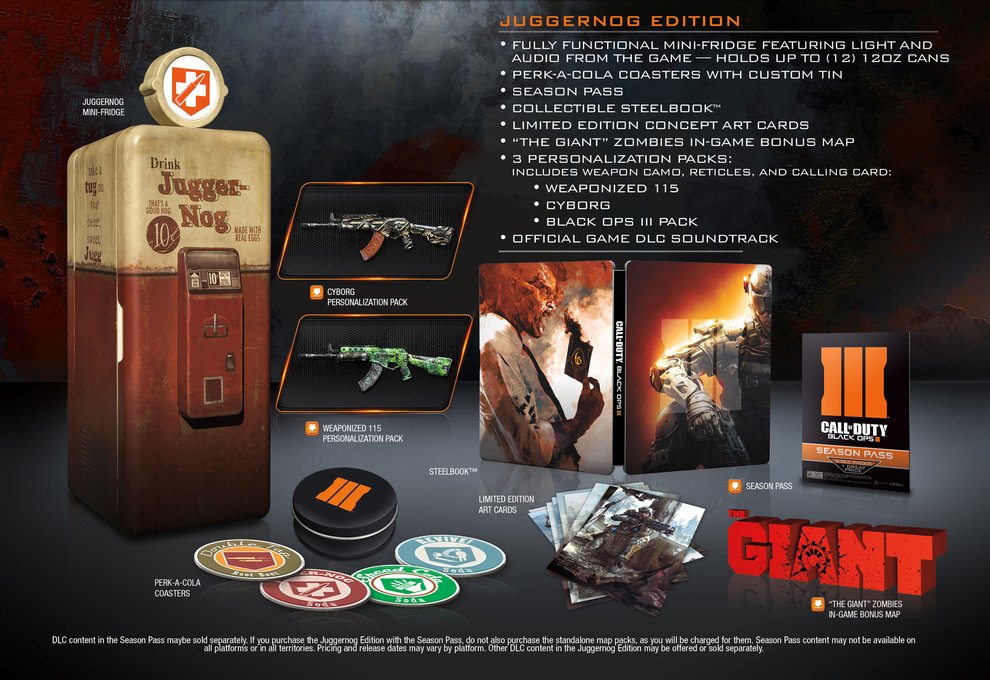 Call of Duty: Black Ops 3 wird am 6. November 2015 für PC, Xbox One und PlayStation 4 erscheinen. Eine der Collector's Editions von COD: BO 3 nennt sich Juggernog Edition und enthält laut einem neuseeländischen Händler:
"JUGGERNOG MINI-FRIDGE – Store beverages in a fully functional Juggernog themed mini-fridge – modeled after the in-game Perk-a-Cola machine. The Juggernog mini-fridge features light and audio straight from the game. This mini-fridge holds up to (12) 12oz cans ensuring you will always have a cold perk nearby.
PERK-A-COLA COASTER SET WITH CUSTOM TIN – Get a set of coasters featuring Juggernog Soda, Revive! Soda, Speed Cola Soda, and Double Tab Root Beer emblems from Call of Duty: Black Ops III Zombies. The set includes a custom tin for storing your coasters
SEASON PASS – The Call of Duty: Black Ops III Season Pass is your access to four exciting DLC packs.
LIMITED EDITION SPECIALIST CONCEPT ART CARDS – Call of Duty: Black Ops III multiplayer introduces the new Specialist character system, allowing players to choose from 9 elite black operations soldiers – each with their own look, personality, and voice. Each Specialist is featured on their own art card that includes exclusive concept art, biography, and a description of their unique weapon and ability.
THE GIANT BONUS MAP – Zombies returns in all of its undead glory with "The Giant," a Nazi research facility featuring the weapon-upgrading Pack-a-Punch Machine. Re-live the chaos of Treyarch's classic "Der Riese" Zombies map, picking up the Zombies story with Dempsey, Nikolai, Richtofen, and Takeo where Origins left off.
COLLECTIBLE STEELBOOK – Limited edition steel game case featuring an exclusive design.
OFFICIAL CALL OF DUTY: BLACK OPS III SOUNDTRACK – Upgrade your playlist with a digital copy of the in-game score.
IN-GAME BONUS CONTENT: WEAPONIZED 115 – The Weaponized 115 Personalization Pack brings the popular Zombies theme to your favorite Multiplayer weapon. Customize your weapons with the fan favorite Origins-inspired camo, reticle, and animated calling card.
IN-GAME BONUS CONTENT: CYBORG – The fan favorite Cyborg Personalization Pack returns in Call of Duty: Black Ops III, fully-loaded with an electrotech-themed weapon skin, uniquely-shaped reticle, and a calling card.
IN-GAME BONUS CONTENT: BLACK OPS 3 BONUS PACK – Join the battle with the official Black Ops III personalization pack. Pack includes a custom weapon camo, reticle, and calling card"
Quelle: mightyape
Hat dir dieser Artikel gefallen? Schreib es uns in die Kommentare oder teile den Artikel. Wir freuen uns auf deine Meinung - und natürlich darfst du uns gerne auf Facebook oder Twitter folgen.