Far Cry 4: Achievement-Liste aufgetaucht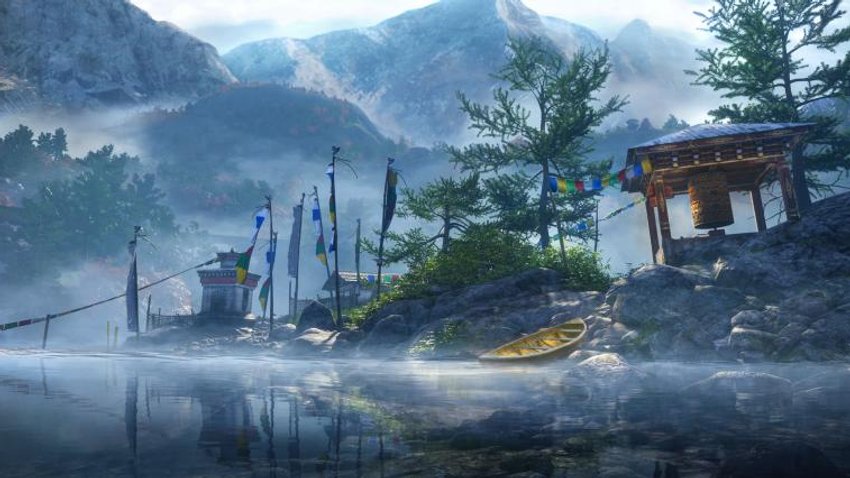 ---
Der Release von Far Cry 4 rückt immer näher und nun ist die passende Achievement-Liste zum Shooter aufgetaucht. In dieser finden sich einige Hinweise auf einen Multiplayer-Modus und weitere Details.
Far Cry 4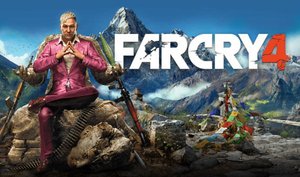 Sprachen:
Deutsch, Englisch
Plattformen:
Playstation 3, Xbox 360, Xbox One, Windows, PlayStation 4
Die Liste der Achievements könnte Spoiler enthalten, weshalb ihr euch überlegen solltet, ob ihr an dieser Stelle weiterlest. Die Liste macht nämlich deutlich, dass es wahrscheinlich eine Art "Heimstätte" geben wird, die ihr upgraden könnt. Auch ein Multiplayer-Modus namens "Battle of Kyrat" wartet auf euch. Eine offizielle Stellungnahme von Ubisoft steht noch aus, weshalb noch nicht gänzlich klar ist, ob die Punkte tatsächlich so im Spiel auftauchen werden. Far Cry 4 erscheint am 18. November 2014 für Xbox One, Xbox 360, PlayStation 4, PlayStation 3 und PC.
Folgende Achievements könnt ihr wahrscheinlich erspielen:
Welcome to Kyrat: Join the Golden Path (Campaign only)
One Down: Decide De Pleur's fate (Campaign only)
Overdose: Discover Shangri-La (Campaign only)
Two Down: Decide Noore's fate (Campaign only)
Hat-Trick: Decide Yuma's fate (Campaign only)
The King Is Dead: Decide Pagan Min's fate (Campaign only)
Deliver Us From Evil: Liberate 12 Outposts (Campaign only)
All Clear: Liberate all Outposts (Campaign only)
Tread Lightly: Liberate any Outpost without triggering an alarm in any mode (Campaign only)
End Transmission: Liberate 8 Bell Towers (Campaign only)
Display Of Fortitude: Conquer 2 Fortresses (Campaign only)
Well-Rounded: Complete any 6 Hunting quests (Supplies, Control, Survival) (Campaign only)
Trigger-Man: Complete 3 Assassination or Eye for an Eye quests (Campaign only)
No One Left Behind: Rescue 15 hostages in Hostage Rescue quests (Campaign only)
Gearhead: Complete 3 Kyrati Films: Racing or Kyrati Films: Survival activities (Campaign only)
Defender: Repel 3 Outpost Retaliation Parties (Campaign only)
Robin Hood: Hijack 3 Royal Cargo Trucks and return them to a liberated Outpost (Campaign only)
Hand Of Justice: Eliminate 3 Pagan's Wrath convoys (Campaign only)
Brother In Arms: Liberate 1 Outpost playing as Hurk (Campaign Co-op only)
Defuser: Complete 3 Bomb Defusal quests (Campaign only)
Changing Lanes: Perform a Vehicle Takedown from the passenger seat of a vehicle (Campaign Co-op only)
Fixer-Upper: Purchase 3 items for the Ghale Homestead (Campaign only)
Exorcist: Recover or destroy 15 Masks of Yalung (Campaign only)
Rewriting History: Remove 30 Propaganda Posters (Campaign only)
Caretaker Of Memory: Find 10 Lost Letters (Campaign only)
Right Tributes: Spin 10 Mani Wheels (Campaign only)
The Rarest Game: Complete 3 Kyrat Fashion Week quests (Campaign only)
Well Read: Read 10 notes (Campaign only)
Quick Learner: Learn 10 skills (Campaign only)
Fully Loaded: Learn all skills (Campaign only)
Tricked Out: Craft 5 upgrades for your equipment (Campaign only)
Dr. Feelgood: Craft 15 syringes (Campaign only)
Make It Rain: Spend 500,000 rupees total at Trading Posts (Campaign only)
Custom-Fitted: Buy all attachments and paint schemes for a single weapon (Campaign only)
Tusker: Kill 30 enemies with an elephant (Campaign only)
Quad Kill: Kill 4 enemies simultaneously with a single explosion (Campaign only)
Misdirection: Distract 15 enemies with rocks (Campaign only)
Shutterbug: Tag 25 enemies using the camera (Campaign only)
Reign Of Death: Kill 30 enemies with Mortar rounds (Campaign only)
From A Distance: Kill a target from 60m or more with an arrow or bolt (Campaign only)
Two Birds: Using a sniper rifle, kill 2 targets with a single shot (Campaign only)
The Sky Is Falling: Perform a takedown from a Buzzer (Campaign only)
Flame On!: Kill 50 enemies with fire (Campaign only)
Drive-By: Kill 25 enemies while shooting and driving (Campaign only)
The Good Fight: Reach Karma Level 2, and purchase any Guns For Hire upgrade (Campaign only)
Like A Bird: Fly 5000m total in the Wingsuit (Campaign only)
Roadkill: Run over 25 people (Campaign only)
The People's Champ: Reach Arena Rank 5 (Campaign Arena only)
Renaissance Man: Finish a public match of each game type in the Battles of Kyrat game mode (Battles of Kyrat only)
Community Surprise: Play a Top Rated map in the Map Browser (Map Browser only)
Quelle: Exophase
Hat dir dieser Artikel gefallen? Schreib es uns in die Kommentare oder teile den Artikel. Wir freuen uns auf deine Meinung - und natürlich darfst du uns gerne auf Facebook oder Twitter folgen.