Sony Xperia Tablet Z: PS3 Controller Pairing Demoed [exclusive] [droidcon 2013]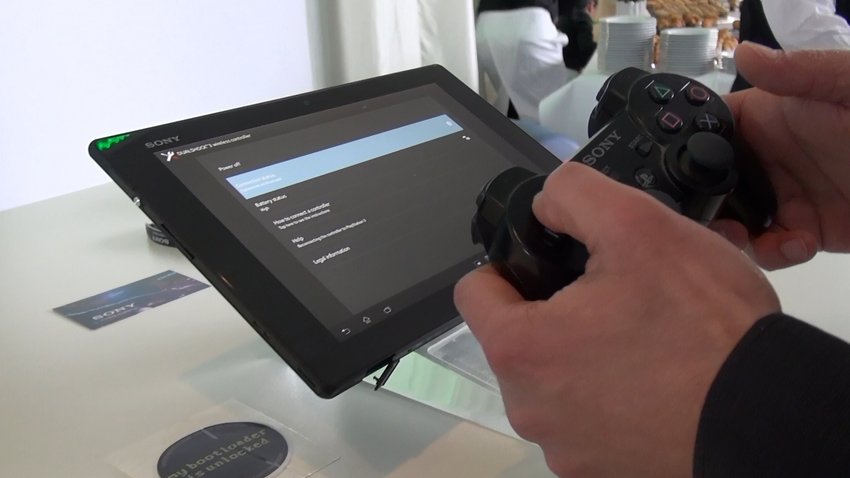 ---
With hardware specifications improving almost every month and a growing numbers of class A titles, Android gaming is undoubtedly on the rise. One of the major caveats, however, is that mobile games still rely on touchscreen interaction, worsening the player's gaming experience. Sony wants to change that and enables gamers to use their PS3′s DualShock 3 controller, with Android devices of the Xperia brand — natively and without the need to root the device. At droidcon 2013 we had a closer look at that feature and tried it out by ourselves on the Sony Xperia Tablet Z.
[Hinweis: Dieses Posting ist an internationale Leser gerichtet und deshalb auf Englisch; hier geht es zur deutschen Version.]
There are a couple of occasions when we decide to publish a piece also in English, because we feel this might be interesting for international readers as well. This is one of those: Yesterday we learnt that Sony is going to equip their Xperia devices with the option to be used with the PlayStation's DualShock 3 controller. Among the first devices to support this feature are the freshly announced Sony Xperia SP and the Xperia Tablet Z, which was announced earlier this year. At droidcon 2013 in Berlin we jumped at the chance to try that out: In our video you can learn how to initially pair your PS3 DualShock 3 controller with a Sony Xperia Tablet Z using a USB OTG adaptor cable.
As you are also able to connect your Xperia device to TVs and monitors, you already have a perfectly capable Android-based gaming console. This may be a big opportunity for Android gaming, even more than projects like OUYA or Gamestick.
As mentioned, this new feature is currently present on the Xperia Tablet Z and the Xperia SP only, but it should be soon rolling out to other Xperia handsets and Tablets via an official firmware update, too. We will keep you posted.