iPhone 4 screen repair tutorial and FAQ [english]
---
With the GIGA & Fixxoo Screen Repair Kit you can easily fix your iPhone 4. This is a step-by-step video guide and tutorial, accompanied by answers to all of the most frequent questions you might have.
Frequently asked questions about the iPhone 4 screen repair
Where can I get original replacement parts?
Apple does not sell spare parts to customers. If you don't happen to be an authorized service provider (ASP) you will have no chance of getting "original" iPhone displays, batteries or anything of that sort.
It is, however, possible to acquire OEM parts. That means they are produced in the same factories by the same manufacturers which provide Apple and their partners with parts for the actual iPhone. They won't be "original Apple" parts but technically identical and of high quality.
While the OEM parts may be the same as those Apple uses, they have not undergone the strict quality control Apple enforces on their suppliers. That's why we source our displays and batteries only from selected manufacturers.
Our partners follow our own strict quality testing protocol and we do further random quality screenings of all products that reach our warehouse. This is how we ensure the high level of reliable quality you are rightfully expecting from our repair kits.
What should I look out for when buying replacement parts?
When you see displays or batteries being offered as "original", ask the vendor: What does that mean exactly? Where are the parts from and how does the seller ensure their quality?
Look at the seller's ratings on Amazon or eBay. Is he trustworthy? Is the majority of buyers happy with the product?
If the parts are relatively cheap there may be a catch. Our replacement kits are not the cheapest. In return we offer a high level of quality and customer service. Replacement parts with a lower price tag may be substantially lower grade or simply unchecked refurbished products or even returns.
Another thing to look out for is customer support. Can you get a hold of the seller in case you have a question or complaint? Is there a website with contact details? Does the vendor offer support in your language? Are there maybe FAQs to answer some questions immediately?
By following these easy guidelines you should be able to avoid low quality parts and falling victim to shady vendors.
Do I need to fasten all screws as tightly as possible?
For Pete's sake, no! All screws are usually only slightly fastened so you'll be able to loosen them with very little effort. There's very little room for jiggling about inside the phone, so there's no benefit to using excessive force on the poor screws. On the contrary, fastening them too tightly can damage your phone!
Usually a light touch is all they need to get loose. Use the same light twist of the wrist to fasten them again. This applies to the external, as well as the internal screws.
My phone won't connect to a mobile network after replacing my screen!
First you should check whether the date and time have reset after disconnecting the battery. Go to Settings -> General -> Date & Time to deactivate the automatic time setting. Set your timezone, reboot your phone and you should be good to go.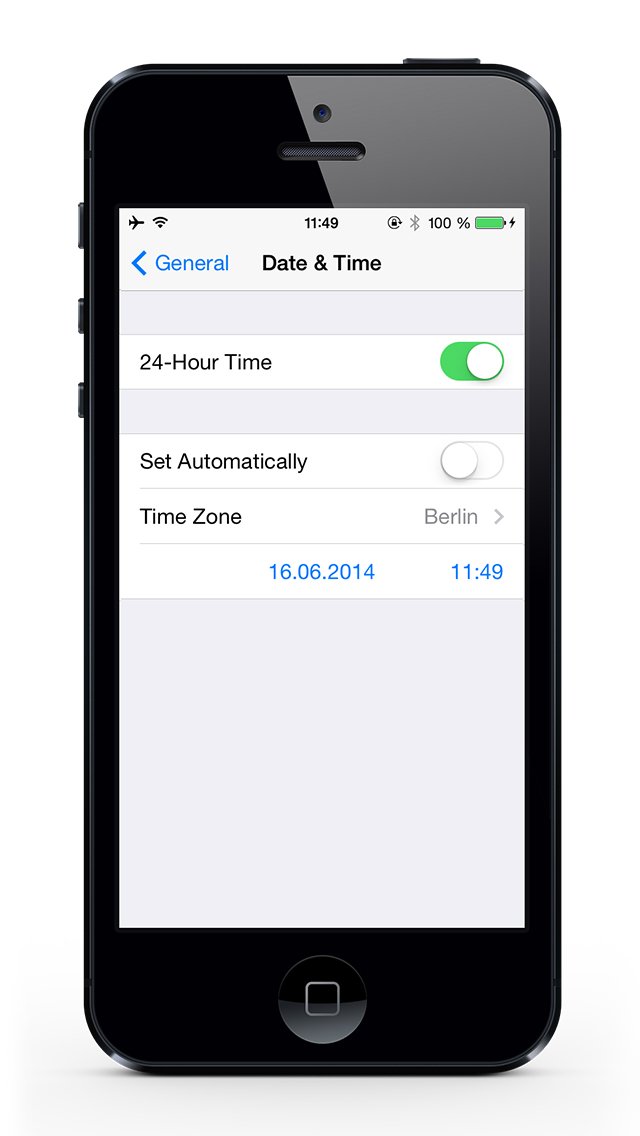 If you still can't get a connection try the following: Check the little antenna cable right above the speaker module. It needs to be connected to the logic board.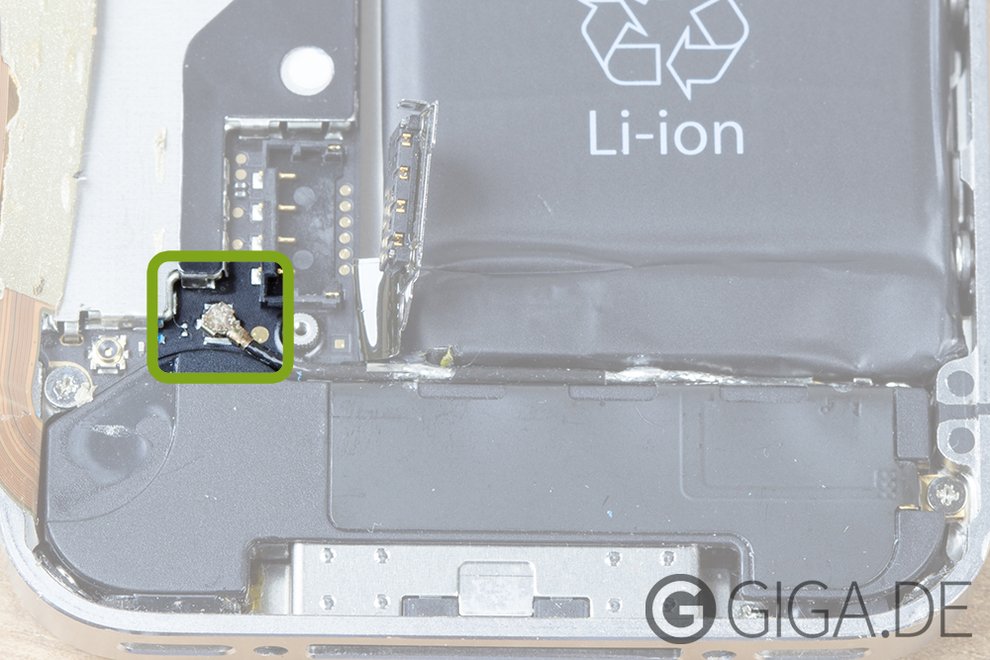 Also, make sure the small blue chip next to the antenna connector is not damaged. It is essential for cellular signal reception.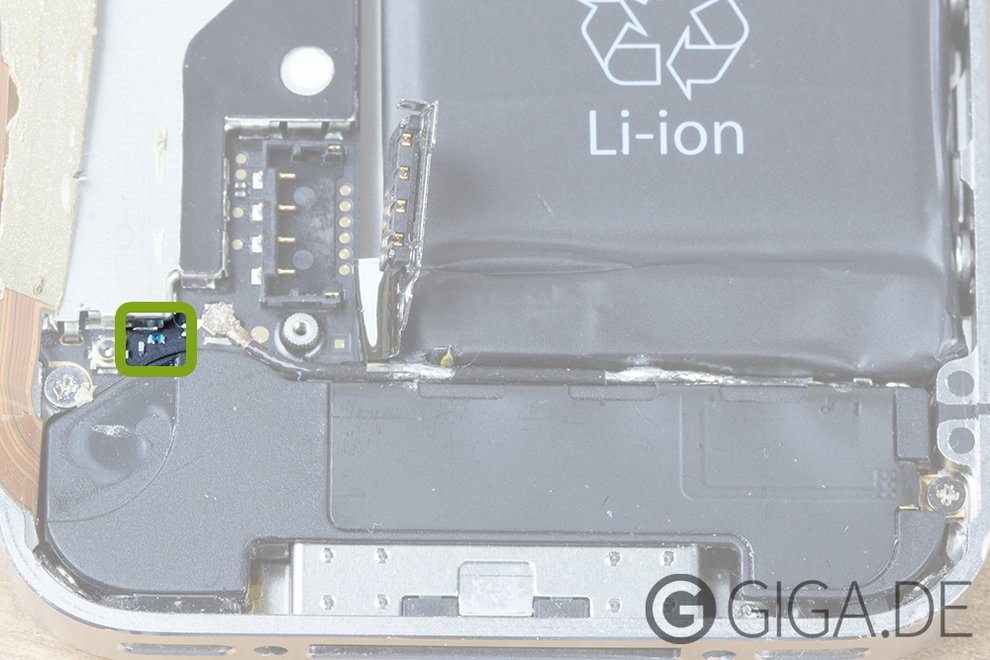 After repairing my phone, the touchscreen has stopped working. What can I do?
You can tell the screen is turning on but your taps and swipes don't have any effect? Then there's probably something wrong with this touchscreen-connector.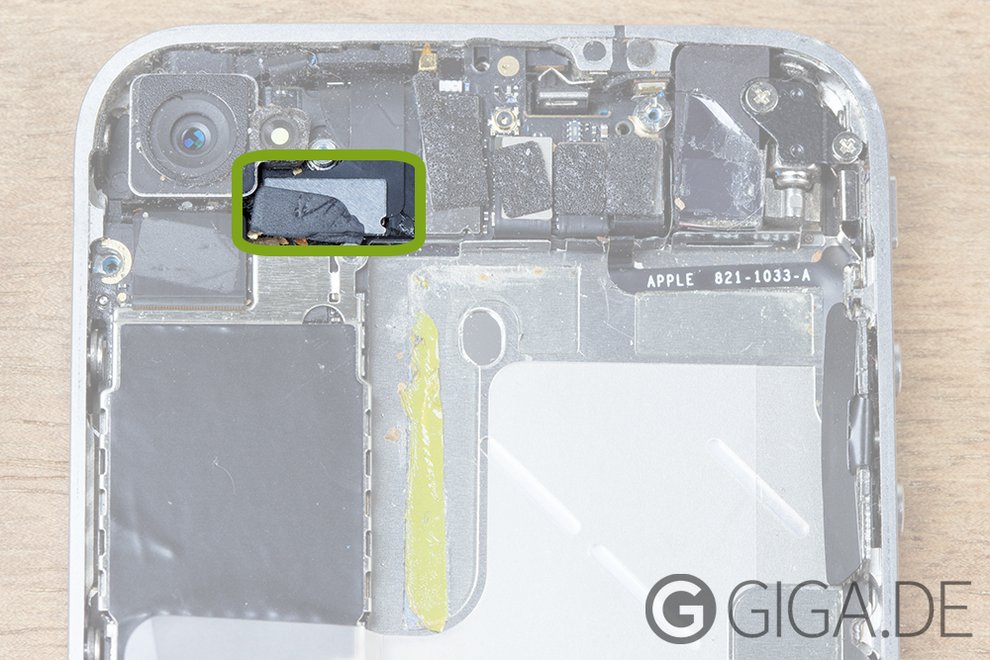 Check if it is properly connected to the logic board. Even the slightest fracture can also cause the touch-sensor to malfunction. You need to be very careful when replacing the screen! If the cable gets bent and stuck between the screen and the frame it can break and cause touch-issues such as these.
One of the screws on the logic board has some sort of white sticker on it. What should I do?
The white sticker is a water sensor. It tells Apple's support technicians that your phone has been in contact with more liquid than it should have. You should be able to remove this screw even with the white sticker on it. Or you can carefully remove it and stick it back on later.
The screen won't fit! It's jammed and refuses to slot into place.
The 6 screws holding the screen in the device's frame are the ones you only loosened without taking them out all the way. Now may be the time to do just that — remove them and the screen should easily slide into place.
The iPhone won't turn on, the screen stays black or white! What now?!
In some cases it may be necessary to perform a soft reset before using your phone for the first time after a screen replacement. This is done by holding both the home and the power button at the same time until the device restarts on its own. Should this not yield the desired result try the following:
My screen won't turn on, keeps flickering or shows faulty pixels!
If your replacement screen doesn't work properly after you've put your phone back together, you should check a couple of connectors on the inside.
The two cables coming from the display need to be securely connected to the logic board. It's not uncommon for them to lose their grip during reassembly. Press them into their sockets and your screen should be fine.
There are weird dots on my screen that look like someone's been pushing down on it too hard.
These "pressure points" can occur if there's bits and pieces stuck under the new screen. It might be debris from the old display or tiny screws. Make sure you haven't forgotten anything inside the "patient" — and don't worry, this happens to the best surgeons. ;)
Everything works fine, only the dock connector will neither charge nor synch my phone.
This large connector is responsible for everything dock. Make sure it's plugged into the logic board.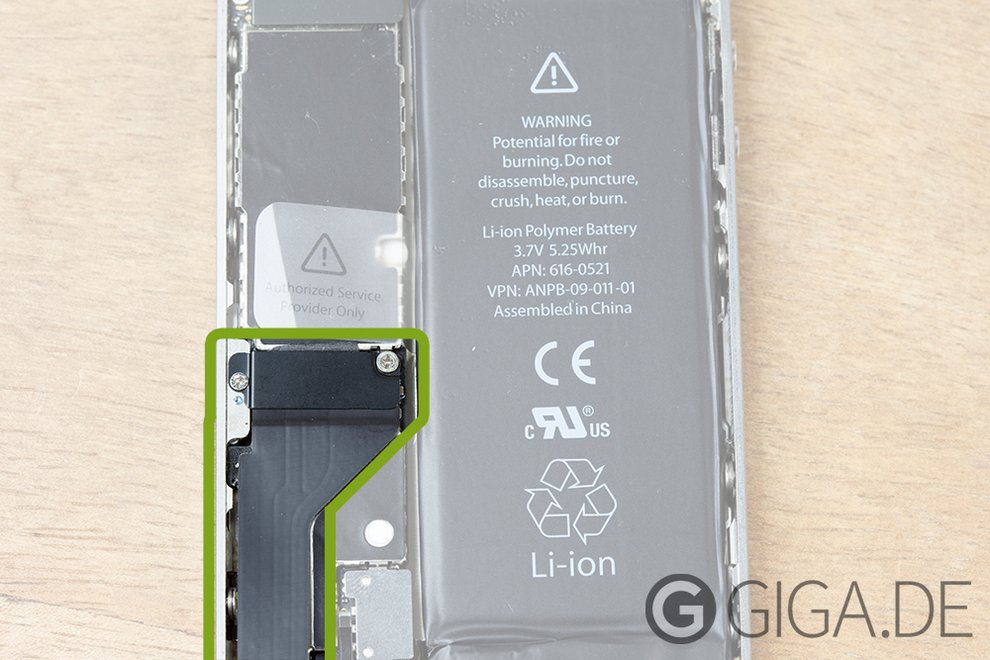 My iPhone 4 doesn't make a peep, the volume controls, mute button or headphone jack have stopped working!
A phone that doesn't make a sound is not much of a helpful companion. Luckily there's a connector for everything to do with sound (except for the speaker on the bottom of the device). It's the one pictured below. Make sure it's connected to the logic board.
If the speaker on the bottom of the phone seems to be broken, check if this large connector is plugged into the board.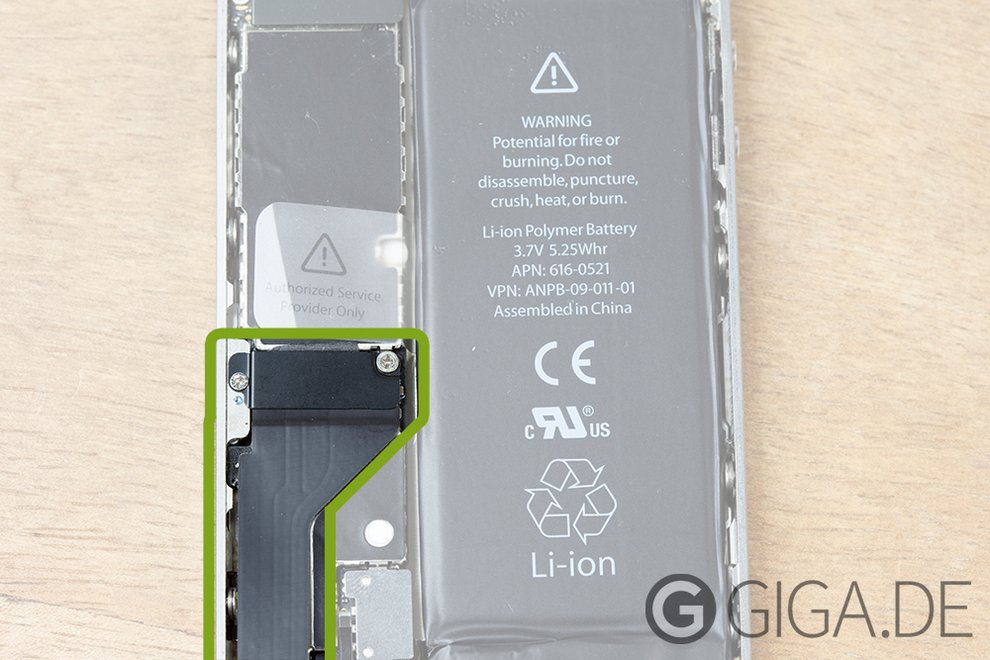 My LED flash won't fire!
If your LED flash doesn't work, check this connector. It links the camera module to the logic board. If it got a little lose, the flash might not fire.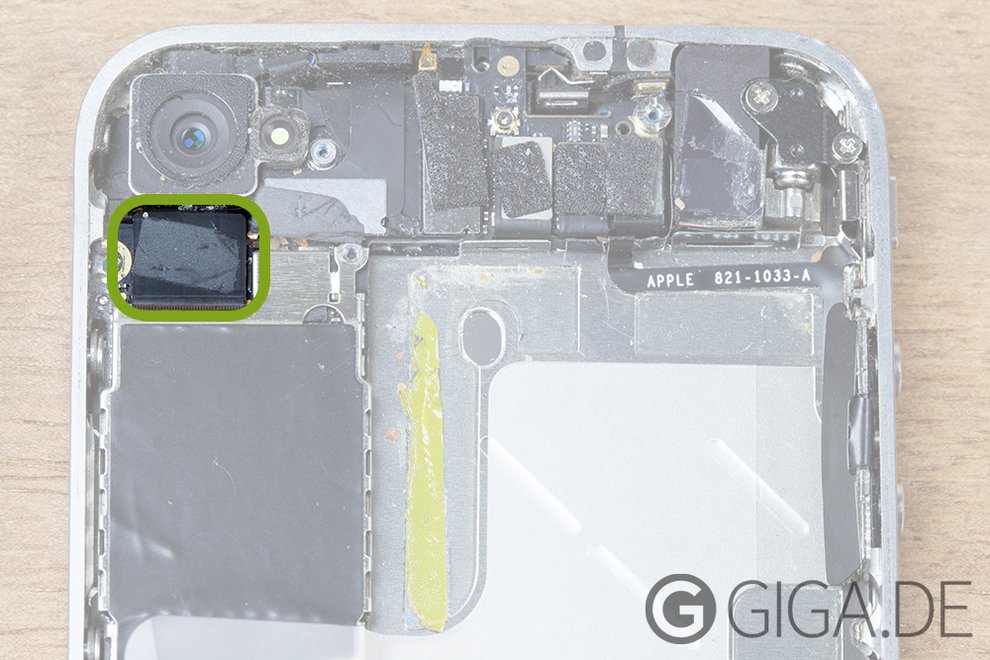 Everything works just fine but I hear a rattling noise from inside my phone...
If there's no other error, this is most likely due to a small piece of plastic that's broken off inside your iPhone 4. This is not at all uncommon and is due to the little plastic thread being deliberately delicate. It's basically supposed to break off as soon as you try to unfasten the screw it holds.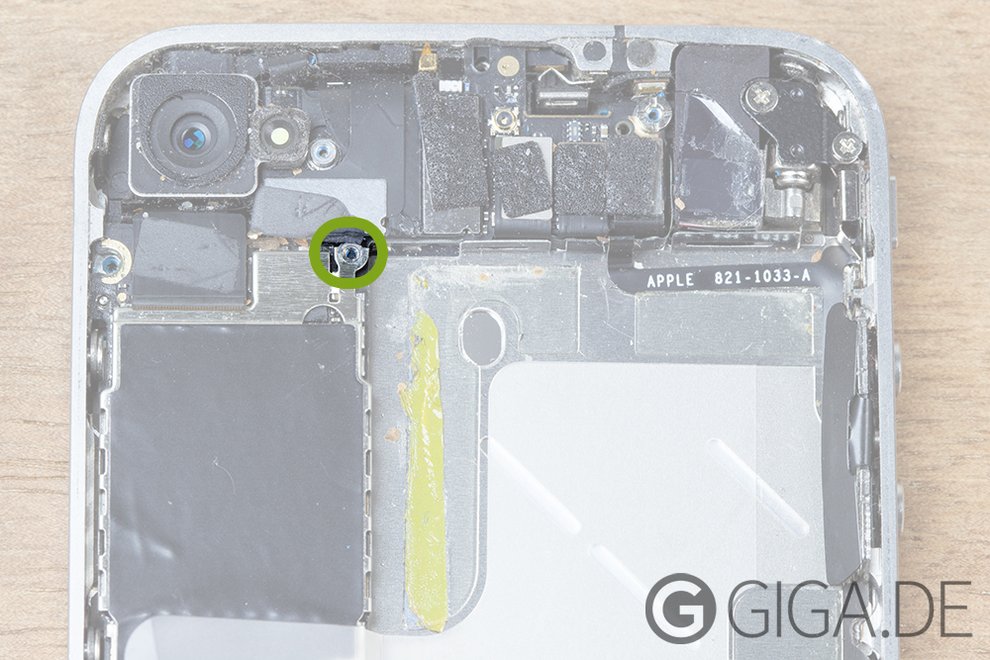 Don't worry about it, you can simply remove the small part, the rattling will stop and your phone will work perfectly fine without it.
The power button is not working.
The power button is controlled via one of the many connectors on the logic board. Check it to see if its connection is loose or otherwise impaired. It's the first one from the left out of this set of three.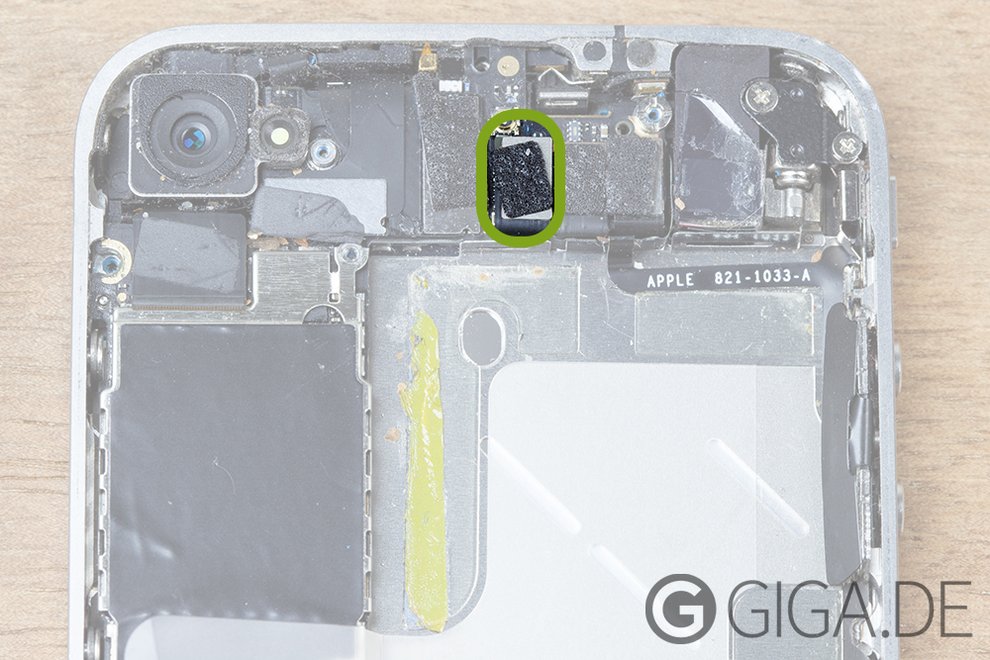 The (forward facing) FaceTime camera has stopped working.
No FaceTime camera — no selfie. And we can't be having that, now can we? Check if this connector is securely attached to the logic board. It's responsible for the Selfie- uh, FaceTime camera.
The (rear facing) iSight camera has stopped working.
If the rear camera on your iPhone has ceased to work, you may have inadvertently loosened this camera connector. Make sure it's properly plugged into the logic board.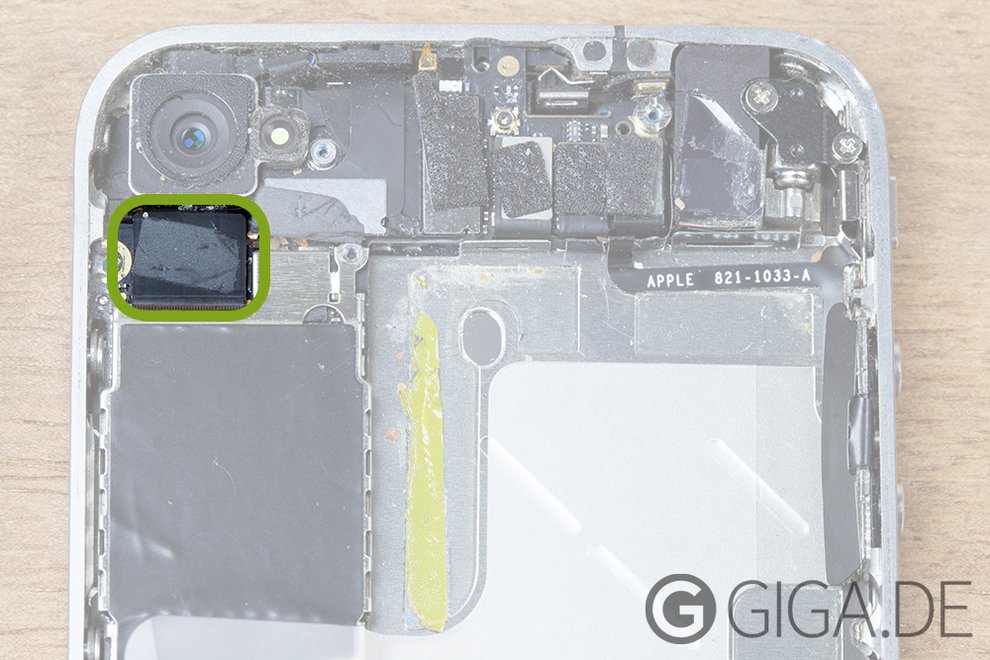 Will I lose my warranty after using the GIGA & Fixxoo Repair Kit?
Replacing the screen will void your phone's warranty. If your device is eligible for warranty simply have Apple repair it for free. Our kit comes into play once it's run out or Apple refuses to fix your phone under warranty for some other reason.
None of these answers have helped me with my question. What do I do now?
You've tried everything? You've gone through all of the above Qs and their respective As and still haven't found one that fit your case? Then you should escalate to phase 2: Drop us an email. You can also contact us via Facebook or Twitter. In any case, we will try our very best to help you!
Smartwatch: Welches Wearable tragt ihr?