iPhone 4s battery replacement: Tutorial and FAQ
---
With the GIGA & Fixxoo Battery Kit you can easily replace the battery of your iPhone 4s. This is a step-by-step video guide and tutorial, accompanied by answers to all of the most frequent questions you might have.
In this detailed step-by-step guide we will show you exactly how to replace your battery. We've also compiled the most common questions and their answers in our FAQ.
iPhone 4s battery replacement: The step-by-step guide
Before you start: To be on the safe side, backup your phone via iTunes or iCloud.
Frequently asked questions about replacing the battery of your iPhone 4s
Where can I get original replacement parts?
Apple does not sell spare parts to customers. If you don't happen to be an authorized service provider (ASP) you will have no chance of getting "original" iPhone displays, batteries or anything of that sort.
It is, however, possible to acquire OEM parts. That means they are produced in the same factories by the same manufacturers which provide Apple and their partners with parts for the actual iPhone. They won't be "original Apple" parts but technically identical and of high quality.
While the OEM parts may be the same as those Apple uses, they have not undergone the strict quality control Apple enforces on their suppliers. That's why we source our displays and batteries only from selected manufacturers.
Our partners follow our own strict quality testing protocol and we do further random quality screenings of all products that reach our warehouse. This is how we ensure the high level of reliable quality you are rightfully expecting from our repair kits.
What should I look out for when buying replacement parts?
When you see displays or batteries being offered as "original", ask the vendor: What does that mean exactly? Where are the parts from and how does the seller ensure their quality?
Look at the seller's ratings on Amazon or eBay. Is he trustworthy? Is the majority of buyers happy with the product?
If the parts are relatively cheap there may be a catch. Our replacement kits are not the cheapest. In return we offer a high level of quality and customer service. Replacement parts with a lower price tag may be substantially lower grade or simply unchecked refurbished products or even returns.
Another thing to look out for is customer support. Can you get a hold of the seller in case you have a question or complaint? Is there a website with contact details? Does the vendor offer support in your language? Are there maybe FAQs to answer some questions immediately?
By following these easy guidelines you should be able to avoid low quality parts and falling victim to shady vendors.
Do I need to fasten all screws as tightly as possible?
For Pete's sake, no! All screws are usually only slightly fastened so you'll be able to loosen them with very little effort. There's very little room for jiggling about inside the phone, so there's no benefit to using excessive force on the poor screws. On the contrary, fastening them too tightly can damage your phone!
Usually a light touch is all they need to get loose. Use the same light twist of the wrist to fasten them again. This applies to the external, as well as the internal screws.
Why do I need to perform a backup of my data before replacing the battery?
Although data loss after replacing your battery is not to be expected and far from the norm, it's always safer to perform a backup prior to operations such as these. Backup your data via iTunes or iCloud before replacing your battery.
My phone won't connect to a mobile network after replacing my battery!
Check whether the date and time have reset after disconnecting the battery. Go to Settings -> General -> Date & Time to deactivate the automatic time setting. Set your timezone, time and date, reboot your phone and you should be good to go.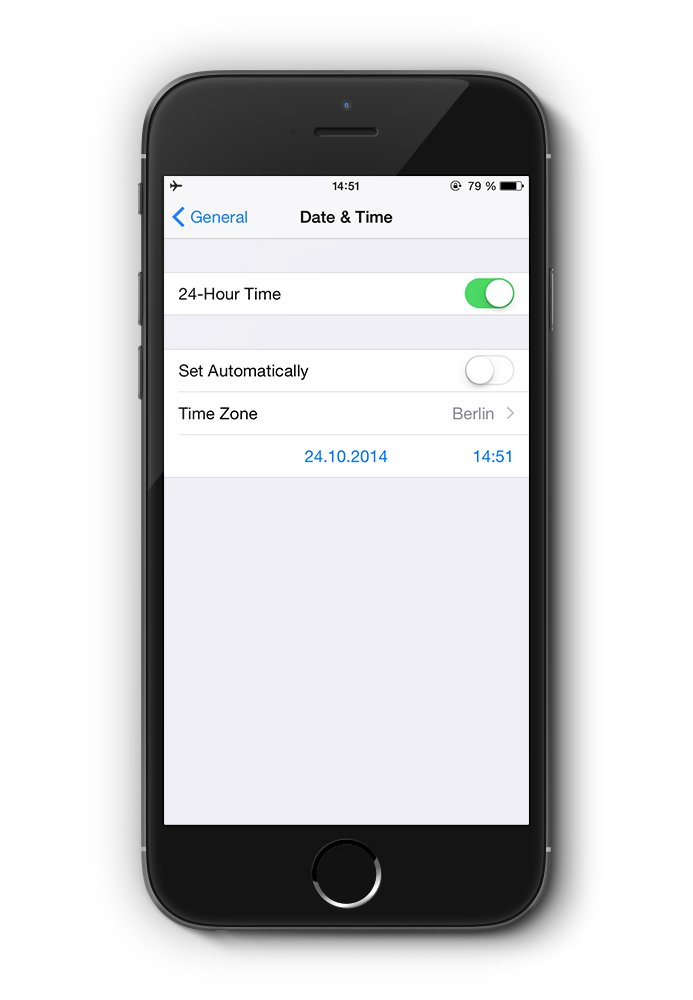 Will I lose my warranty after using the GIGA & Fixxoo Repair Kit?
Replacing the battery will void your phone's warranty. If your device is eligible for warranty simply have Apple repair it for free. Our kit comes into play once it's run out or Apple refuses to fix your phone under warranty for some other reason.
None of these answers have helped me with my question. What do I do now?
You've tried everything? You've gone through all of the above Qs and their respective As and still haven't found one that fit your case? Then you should escalate to phase 2: Drop us an email. You can also contact us via Facebook or Twitter. In any case, we will try our very best to help you!
Smartwatch: Welches Wearable tragt ihr?