Sportspiele haben oftmals den Ruf, dass sie die Spieler nicht nur durch die Action auf dem Spielfeld mitreißen, sondern auch durch ihre Musik. Das ist auch in EA Sports FC 24 nicht anders. Im Folgenden verraten wir euch den gesamten Soundtrack der Fußballsimulation.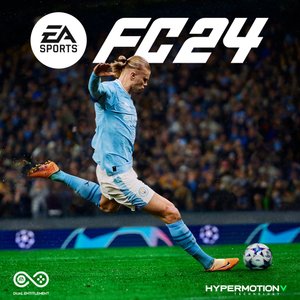 Plattformen:
Xbox One, PlayStation 4, Windows 10, Nintendo Switch, PlayStation 5, Xbox Series X
Spotify-Playlist von EA Sports FC 24
Der Name der Fußballsimulation hat sich zwar geändert, aber natürlich gibt es auch in diesem Jahr einiges auf die Ohren. EA Sports FC 24 besitzt insgesamt 85 Lieder. Die Playlist kommt somit auf eine Spielzeit von 4 Stunden und 15 Minuten und beinhaltet über 100 Artists aus mehr als 30 Nationen.
Dieses Jahr sind große Künstler wie Kendrick Lamar, J. Cole, Baby Keem, Jack Harlow, The Rolling Stones, Fred Again, Stormzy, Skrillex und viele mehr mit von der Partie. Hier kommt ihr zur offiziellen Spotify-Playlist von EA Sports FC 24:
Alle Songs aus EA Sports FC 24
Wir listen euch der Vollständigkeit halber alle Lieder mit ihrem jeweiligen Künstler auf:
LALA – Myke Towers
BICHOTAG – Karol G
We Can Be Anything – Baby Queen
The Hillbillies – Baby Keem, Kendrick Lamar
They Don't Love It – Jack Harlow
Portrait of a Black Slate – Lovejoy
Angry – The Rolling Stones
Passport Bros (with J. Cole) – Bas, J. Cole
Phone – MEDUZA, Sam Tompkins, Em Beihold
Heavier – ODESZA, Yellow House
Rumble – Skrillex, Fred again…, Flowdan
Going Komodo – Royel Otis
LONELY – The Blaze
Nothing Matters – The Last Dinner Party
Eurostar (feat. Central Cee) – Ninho, Central Cee
Seaforth – King Krule
I Go Get It – Souls Of Creation, Bobbie Johnson
Worms – Ashnikko
Complicated (feat. Young Franco) – Winston Surfhirt, Young Franco
6am – Channel Tres
Longevity Flow – Stormzy
The Stranger – Gus Dapperton
One Of Those Days (feat. Lil Yachty & with 347aidan) – Zack Bia, 347aidan, Lil Yachty
Mercy (feat. Jacob Lusk) – The Blessed Madonna, Jacob Lusk, Gabriels
Pro Freak (with Doechii, Fatman Scoop) – Smino, Doechii, Fatman Scoop
Amnesia – M83
Tings My Way – Freq Motif, Magugu
The Sea – Romy
RASEN in OKINAWA – Awich, Tsubaki, OZworld, CHICO CARLITO
Good Lies – Overmono
cracked screen – blackwave., Lute
nice 2 me – piri, Tommy Villiers
HOLD ON – ill peach
Osama – Zakes Bantwini, Kasango, Bruno Be, Ralk
For Granted – Yaeji
Not Today – Matata, Liam Bailey
Mamgobhozi – Major Lazer, Major League Djz, Brenda Fassie
DON'T LET THE DEVIL (feat. thankugoodsir) – Killer Mike, El-P, thankugoodsir
Show Me The Money (with Tkay Maidza) – Snakehips, Tkay Maidza
FORMULA – Dumb Buoys Finishing Club, Merlyn Wood, joe unknown
AVVISO – ARIETE
FIST IN THE SKY – Jords, Jordan Mackampa
The Hard Way – Sid Sriram
THAT GIRL – Bree Runway
Killa – Hava, Dardan
1,2 & Mer – BABY MALA
V I B R A T I O N – Kaleena Zanders, Shift K3Y
Wait For It – salute
TOMMY – WALKER.
Protein v2 – Jeshi, Obongjayar, WESTSIDE BOOGIE
CATALYST – DROELOE, IMANU
fuera de vista – Run The Jewels, Baco Exu do Blues, Trooko
Follow the Cyborg – Miss Grit
EYELIDS – POLICE CAR COLLECTIVE, Cole Bleu
DOOLALLY – Hak Baker
BORED – swim school
Get It – Kah-Lo
Who Else Would It Be – KayCryy
poster boy – 2holis
FLATLINE – Frost Children
The World's Biggest Paving Slab – English Teacher
Pemmican – La Fine Equipe, Gaël Faye
Gan Ainm – whenyoung
Paradox – SLUMBERJACK, The Kite String Tangle
there she goes – Ezekiel
I Just Wanna Dance – Higgo, mustbejohn
Waiting To Go – DRS, Duskee, Disrupta
So Clear – Fliptrix
Assumptions (Jengi Remix) – Sam Gellaitry, Jengi
Superstar – Balters Only, Micky Modelle, Simone Denny
Pinking Shears – Mandy, Indiana
Better Than I? – Shakes
Haunt My Mind (Machinedrum Remix) – IMANU, Tudor, Machinedrum
I've got a bf (best friend) – Willo, niina
Absolutely Tidy – ILLAMAN, Pitch 92, PAV4N
Stone – Effy, Flowdan
MMM – Skinny Local, Cartel Madras
Dreaming of You – Disrupta
EZ 4 Me – Bianca Oblivion, Eliza Legzdina
R.A.V.E.A.S.A.P (Unglued Remix) – Gardna, Unglued
Why You Waiting? – Doktor, Serum, Agent Sasco (Assasin)
Relentless – Ternion Sound, PAV4N, Strategy, Hypho
I Can't Stay – Charlie Brix, Visages, DRS
Sekkle In – Halogenix, Sparkz
My Way – Charlotte Devaney
Du willst keine News rund um Technik, Games und Popkultur mehr verpassen? Keine aktuellen Tests und Guides? Dann folge uns auf Facebook oder Twitter.