Sony Xperia Sola: Exclusive Hands-on with Sony's new Floating Touch-Smartphone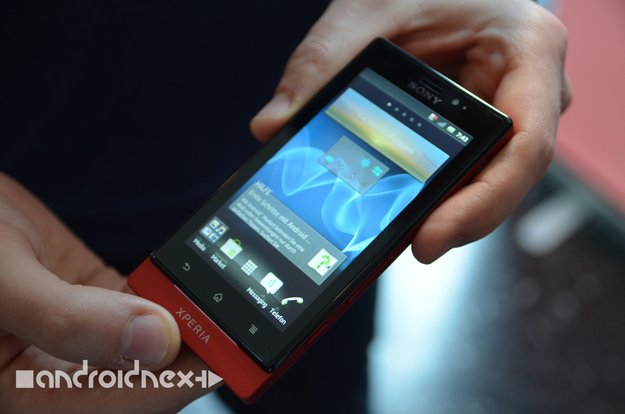 ---
Sony just announced its new Xperia Sola during the Droidcon in Berlin. We had the chance to go hands on with the dual-core-device that comes with a 3.7 inch-screen an the new "floating touch"-technology, that is supposed to make your browsing experience more comfortable. But does it really? Find out in our video.
[Hinweis: Wir haben ebenfalls eine deutsche Version von Artikel und Hands-On produziert.]
The Xperia Sola which is or will also be known as the Sony MT27i or the Xperia sole, is basically the Xperia U which we saw during MWC in Barcelona – but it comes in another, in my opinion even sexier, outfit and additionally with NFC onboard. But one of the main features is supposed to be the new floating touch-technology, with which users are able to highlight weblinks by simply hovering – not swiping – their fingers over the screen; to select a link the user then simply touches it. The technology also allows the user to use the touchscreen even with fabrics or gloves, which could be very handy during winter. Sounds interesting, let's see how that works:
Nice, even though this feature will only work in the browser (and probably only the vanilla one) in the beginning – with the upcoming Ice Cream Sandwich-update the functionality will be available all over the UI. And again, it's a really beautiful phone that reminds me a little of the old SE K800-Series which I loved in its time. The Sola comes with a 3.7 inch-LCD with 480 x 854 pixel, 3G, WiFi, GPS, Bluetooth and, as stated above, NFC. There are 8GB of internal memory and a MicroSD-slot for up to 32 GB more. The rear camera has a 5MP-resolution and can record videos in 720p. Thanks to the dedicated camera button you can shoot a photo from a switched off device in only 1.5 seconds. The device will be powered by ST-Ericsson's dual-core 1GHz NovaThor system-on-a-chip. Speaking dimensions, the Sola will weigh 0.24 pounds with 0.39 inches of thickness – so it basically is thinner and lighter than all the other Xperias, including the Xperia S.
On the downside the battery seem a litte small: With only 1320 mAh you may not expect it to last much longer than a day. And in spite of the trend (and you guys desperately waiting for it) Sony will ship the Sola in Q2 with Android 2.3.7 Gingerbread instead of the yummy Ice Cream Sandwich, although the update is supposed to come during the "summer 2012" – we sure hope so.
Sony Xperia Sola photos
Hat dir dieser Artikel gefallen? Schreib es uns in die Kommentare oder teile den Artikel. Wir freuen uns auf deine Meinung - und natürlich darfst du uns gerne auf Facebook oder Twitter folgen.