Spiele in 2023: Auf diese neuen Games könnt ihr euch freuen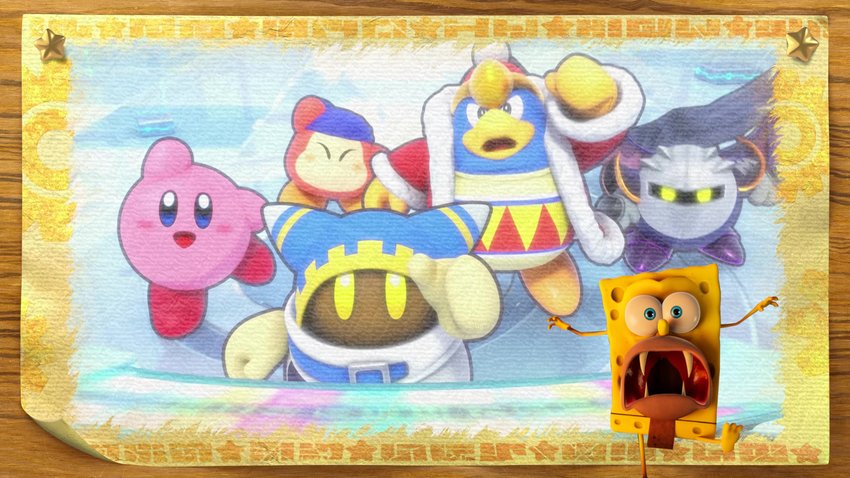 ---
Für das Jahr 2023 wurden bereits viele Spiele angekündigt, auf die Fans und Gamer schon lange warten. Nachfolgend listen wir euch alle wichtigen Games-Releases in 2023 auf, damit ihr wisst, worauf ihr euch freuen könnt. Außerdem geben wir euch Empfehlungen zu Spielen, die im Februar erscheinen und auf die wir uns besonders freuen.
Vorschau neuer Spiele in 2023 im Video
Die für uns interessantesten und wichtigsten Releases in diesem Jahr haben wir für euch auch im Video zusammengefasst.
Darauf freuen wir uns im Januar & Februar 2023 am meisten!
Sergej Jurtaev, Redakteur: "Da 3D-Plattformer leider eine Seltenheit geworden sind, freue ich mich als Fan des Genres sehr auf das neue SpongeBob-Spiel. Bei Lizenzspielen gibt es zwar immer bedenken bezüglich der Qualität, aber da die Entwickler 2020 bereits ein gutes Remake zu SpongeBob: Schlacht um Bikini Bottom abgeliefert haben, bin ich zuversichtlich, dass auch SpongeBob SquarePants: The Cosmic Shake jede Menge F.U.N. machen wird." Überzeugt? Dann könnt ihr euch das Spiel über den folgenden Link bestellen:
Sergej Jurtaev, Redakteur: "Kirby's Return to Dream Land Deluxe hat einen Koop-Modus, dank dem ihr das ganze Abenteuer mit bis zu vier Spielern erleben könnt. Mehr muss man nicht wissen. Dadurch ist Spielspaß eigentlich schon garantiert, aber auch im Singleplayer macht es Laune. Leider verlangt Nintendo aber mal wieder den Vollpreis für eine leicht aufpolierte Neuauflage – das ist schade." Der Test kommt in Kürze und bis dahin könnt ihr schon mal überlegen, ob ihr euch das Spiel vorbestellen wollt:
Marco Tito Aronica, SEO-Experte: "Die Geschichte von Destiny 2 spitzt sich langsam zu und wird mit Lightfall einen weiteren Höhepunkt erreichen, schließlich leitet sie das Ende des Lichts und der Dunkelheit ein. Ich kann es kaum erwarten, mit Neomuna das neue Gebiet im Cyberpunk-Setting zu bereisen und die neuen Strang-Fähigkeiten auszuprobieren. Die verbesserte Mobilität wird das Gameplay stark verändern. Wie gut das funktioniert, bleibt abzuwarten."
Die wichtigsten Releases in 2023
In den folgenden Tabellen haben wir alle bisher bekannten und namhaften beziehungsweise wichtigen Releases aufgelistet. Die Listen werden wir regelmäßig aktualisieren.
Games-Releases im Januar 2023
| | | | |
| --- | --- | --- | --- |
| Erscheinungsdatum | Spiel | Genre | Plattformen |
| 2.1.2023 | Heroish | MOBA | PS5, Xbox Series X/S, Nintendo Switch, PC |
| 6.1.2023 | We Are The Caretakers | Strategie, RPG | Xbox Series X/S, PC |
| 10.1.2023 | Atrio: The Dark Wild | Survival, Adventure | Xbox Series X/S, PC |
| 10.1.2023 (Early Access) | Glimmer in Mirror | Jump'n'Run | PC |
| 11.1.2023 | Children of Silentown | Adventure | PS4, Xbox One, Nintendo Switch, PC |
| 12.1.2023 | Chasing Static | Horror, Adventure | PS4, PS5, Xbox One, Xbox Series X/S, Nintendo Switch, PC |
| 12.1.2023 | Gatewalkers | Action, RPG | PC |
| 12.1.2023 | KartRider: Drift | Arcade Racer | PS4, Xbox One, PC |
| 13.1.2023 | Dragon Ball Z: Kakarot (Test lesen) | Action, RPG | PS5, Xbox Series X/S |
| 13.1.2023 | One Piece Odyssey (Test lesen) | RPG | PS4, PS5, Xbox One, Xbox Series X/S, PC |
| 17.1.2023 (Early Access) | Surviving the Abyss | Simulation | PC |
| 19.1.2023 | A Space for the Unbound | Adventure | PS4, PS5, Xbox One, Xbox Series X/S, Nintendo Switch, PC |
| 19.1.2023 | Tortuga: A Pirate's Tale | Strategie, Adventure | PS4, PS5, Xbox One, Xbox Series X/S, PC |
| 20.1.2023 | Fire Emblem Engage (Test lesen) | Strategie, RPG | Nintendo Switch |
| 20.1.2023 | Monster Hunter Rise (Test lesen) | Action, Adventure | PS4, PS5, Xbox One, Xbox Series X/S |
| 24.1.2023 | Forspoken (Test lesen) | Action, RPG | PS5, PC |
| 24.1.2023 | World War Z: Aftermath (Test lesen) | Survival, Action | PS4, PS5, Xbox One, Xbox Series X/S, PC |
| 25.1.2023 | The Excavation of Hob's Barrow | Adventure | Nintendo Switch, PC |
| 26.1.2023 | Power Chord | Strategie, Adventure | Nintendo Switch, PC |
| 26.1.2023 | Roller Drama | Visual Novel, Adventure | PS4, PS5, Xbox One, Xbox Series X/S, Nintendo Switch, PC |
| 27.1.2023 | Dead Space Remake (Test lesen) | Horror, Action | PS5, Xbox Series X/S, PC |
| 30.1.2023 | Backfirewall | Puzzle, Adventure | PS4, PS5, Xbox One, Xbox Series X/S, Nintendo Switch, PC |
| 30.1.2023 | PowerWash Simulator | Simulation | PS4, PS5, Xbox One, Xbox Series X/S, Nintendo Switch, PC |
| 31.1.2023 | Age of Empires II: Definitive Edition | Strategie | Xbox One, Xbox Series X/S, PC |
| 31.1.2023 (Early Access) | Inkulinati | Strategie | Xbox One, Xbox Series X/S, Nintendo Switch, PC |
| 31.1.2023 | Season: A letter to the future | Adventure | PS4, PS5, PC |
| 31.1.2023 | SpongeBob SquarePants: The Cosmic Shake | Arcade, Action | PS4, Xbox One, Nintendo Switch, PC |
| 31.1.2023 | We Were Here Forever | Puzzle, Adventure | PS4, PS5, Xbox One, Xbox Series X/S |
Games-Releases im Februar 2023
| | | | |
| --- | --- | --- | --- |
| Erscheinungsdatum | Spiel | Genre | Plattformen |
| 2.2.2023 | Deliver Us Mars | Action, Adventure | PS4, PS5, Xbox One, Xbox Series X/S, PC |
| 2.2.2023 | Life is Strange 2 | Adventure | Nintendo Switch |
| 2.2.2023 | The Pathless | Action, Adventure | PS4, PS5, Xbox One, Xbox Series X/S, Nintendo Switch, PC, iOS |
| 3.2.2023 | SpellForce: Conquest of Eo | Strategie, RPG | PC |
| 10.2.2023 | Hogwarts Legacy | Action, Adventure | PS4, PS5, Xbox One, Xbox Series X/S, Nintendo Switch, PC |
| 14.2.2023 | Labyrinth of Galleria: The Moon Society | Dungeon Crawler | PS4, PS5, Xbox One, Xbox Series X/S, Nintendo Switch, PC |
| 14.2.2023 | Wanted: Dead | Action | PS4, PS5, Xbox One, Xbox Series X/S, PC |
| 15.2.2023 | Pharaoh: A New Era | Aufbaustrategie | PC |
| 16.2.2023 | Theatrhythm: Final Bar Line | Musikspiel | PS4, Nintendo Switch |
| 17.2.2023 | Die Siedler: Neue Allianzen | Aufbaustrategie | PC |
| 17.2.2023 | Tales of Symphonia: Remastered | JRPG | PS4, Xbox One, Nintendo Switch |
| 17.2.2023 | Wild Hearts | Action, Adventure | PS5, Xbox Series X/S, PC |
| 21.2.2023 | Atomic Heart | Action, Adventure | PS4, PS5, Xbox One, Xbox Series X/S, PC |
| 21.2.2023 | Like a Dragon: Ishin | Action, Adventure | PS4, PS5, Xbox One, Xbox Series X/S, PC |
| 22.2.2023 | Demeo | Dungeon Crawler | PS5, PC |
| 22.2.2023 | Digimon World: Next Order (Test lesen) | Action | Nintendo Switch, PC |
| 22.2.2023 | Horizon: Call of the Mountain | Action, Adventure | PS5 VR2 |
| 23.2.2023 | Blood Bowl 3 | Sportspiel | PS4, PS5, Xbox One, Xbox Series X/S, Nintendo Switch, PC |
| 23.2.2023 | Company of Heroes 3 | Strategie | PC |
| 23.2.2023 | Sons of the Forest | Survival, Horror | PC |
| 24.2.2023 | Atelier Ryza 3: Alchemist of the End & the Secret Key | JRPG | PS4, PS5, Nintendo Switch, PC |
| 24.2.2023 | Kerbal Space Program 2 | Simulation, Adventure | PS4, Xbox One, PC |
| 24.2.2023 | Kirby's Return to Dream Land Deluxe | Jump'n'Run | Nintendo Switch |
| 24.2.2023 | Octopath Traveler II | Action | PS4, PS5, Nintendo Switch, PC |
| 28.2.2023 | Destiny 2: Lightfall | MMO, Shooter | PS4, PS5, Xbox One, Xbox Series X/S, PC |
| 28.2.2023 | Scars Above | Action, Adventure | PS4, PS5, Xbox Series X/S, PC |
Games-Releases im März 2023
| | | | |
| --- | --- | --- | --- |
| Erscheinungsdatum | Spiel | Genre | Plattformen |
| 3.3.2023 | The Last of Us: Part I | Action, Adventure | PC |
| 3.3.2023 | Wo Long: Fallen Dynasty | Action | PS4, PS5, Xbox One, Xbox Series X/S, PC |
| 9.3.2023 | Clash: Artifacts of Chaos | Action, Adventure | PS4, PS5, Xbox One, Xbox Series X/S, PC |
| 9.3.2023 | Figment 2: Creed Valley | Puzzle, Adventure | PS4, PS5, Xbox One, Xbox Series X/S, Nintendo Switch, PC |
| 9.3.2023 | Project Zero: Mask of the Lunar Eclipse | Horror, Adventure | PS4, PS5, Xbox One, Xbox Series X/S, Nintendo Switch, PC |
| 9.3.2023 | Transport Fever 2 | Wirtschaftssimulation | PS4, PS5, Xbox One, Xbox Series X/S, PC |
| 10.3.2023 | Mato Anomalies | RPG, Adventure | PS4, PS5, Xbox One, Xbox Series X/S, Nintendo Switch, PC |
| 16.3.2023 | Anno 1800 | Aufbaustrategie | PS5, Xbox Series X/S |
| 16.3.2023 | Dark Pictures: Switchback VR | Horror | PS5 VR2 |
| 17.3.2023 | Bayonetta Origins: Cereza and the Lost Demon | Action, Adventure | Nintendo Switch |
| 17.3.2023 | Star Wars Jedi: Survivor | Action, Adventure | PS5, Xbox Series X/S, PC |
| 17.3.2023 | The Legend of Heroes: Trails to Azure | JRPG | PS4, Nintendo Switch, PC |
| 22.3.2023 | Have a Nice Death | Arcade, Action | Nintendo Switch, PC |
| 23.3.2023 | Resident Evil 4 Remake | Horror | PS5, Xbox Series X/S, PC |
| 23.3.2023 | Storyteller | Adventure | Nintendo Switch, PC |
| 24.3.2023 | EA Sports PGA Tour | Golfspiel | PS5, Xbox Series X/S, PC |
| 28.3.2023 | Crime Boss: Rockay City | Shooter | PS4, PS5, Xbox One, Xbox Series X/S, PC |
| 28.3.2023 | Simon the Sorcerer Origins | Adventure | PS4, PS5, Xbox One, Xbox Series X/S, Nintendo Switch, PC |
Games-Releases im April 2023
| | | | |
| --- | --- | --- | --- |
| Erscheinungsdatum | Spiel | Genre | Plattformen |
| 4.4.2023 | Meet Your Maker | Action, Strategie | PS4, PS5, Xbox One, Xbox Series X/S, PC |
| 4.4.2023 | Road 96: Mile 0 | Adventure | PS4, PS5, Xbox One, Xbox Series X/S, Nintendo Switch, PC |
| 6.4.2023 | Curse of the Sea Rats | Jump'n'Run | PS4, PS5, Xbox One, Xbox Series X/S, Nintendo Switch, PC |
| 14.4.2023 | Mega Man Battle Network Legacy Collection | Arcade, Action | PS4, Nintendo Switch, PC |
| 18.4.2023 | God of Rock | Musikspiel | PS4, PS5, Xbox One, Xbox Series X/S, Nintendo Switch, PC |
| 18.4.2023 | Minecraft Legends | Strategie | PS4, PS5, Xbox One, Xbox Series X/S, Nintendo Switch, PC |
| 20.4.2023 | Ad Infinitum | Horror, Adventure | PS4, PS5, Xbox One, Xbox Series X/S, PC |
| 20.4.2023 | Tin Hearts | Puzzle, Adventure | PS4, PS5, Xbox One, Xbox Series X/S, Nintendo Switch, PC |
| 25.4.2023 | Afterimage | Action, Adventure | PS4, PS5, Xbox One, Xbox Series X/S, Nintendo Switch, PC |
| 25.4.2023 | Roots of Pacha | Simulation, RPG | PS4, PS5, Xbox One, Xbox Series X/S, Nintendo Switch, PC |
| 28.4.2023 | Dead Island 2 | Shooter | PS4, PS5, Xbox One, Xbox Series X/S, PC |
| 4.2023 | Mask of the Rose | Visual Novel | PS4, PS5, Xbox One, Xbox Series X/S, Nintendo Switch, PC |
Games-Releases im Mai 2023
| | | | |
| --- | --- | --- | --- |
| Erscheinungsdatum | Spiel | Genre | Plattformen |
| 2.5.2023 | Age of Wonders 4 | Strategie | PS5, Xbox Series X/S, PC |
| 2.5.2023 | Redfall | Action | Xbox Series X/S, PC |
| 9.5.2023 | Ys IX: Monstrum Nox | JRPG | PS4, PS5, Nintendo Switch, PC |
| 12.5.2023 | The Legend of Zelda: Tears of the Kingdom | Action, Adventure | Nintendo Switch |
| 18.5.2023 | Endless Dungeon | Action, RPG | PS4, PS5, Xbox One, Xbox Series X/S, Nintendo Switch, PC |
Games-Releases im Juni 2023
| | | | |
| --- | --- | --- | --- |
| Erscheinungsdatum | Spiel | Genre | Plattformen |
| 2.6.2023 | Street Fighter 6 | Beat 'em up | PS5, Xbox Series X/S, PC |
| 5.6.2023 | TESO: Necrom | MMORPG | PS4, PS5, Xbox One, Xbox Series X/S, PC |
| 6.6.2023 | Diablo IV | Action, RPG | PS4, PS5, Xbox One, Xbox Series X/S, Nintendo Switch, PC |
| 22.6.2023 | Final Fantasy XVI | Action, RPG | PS5 |
| 27.6.2023 | Story of Seasons: A Wonderful Life | Simulation, RPG | PS5, Xbox Series X/S, Nintendo Switch, PC |
| 6.2023 | RoboCop: Rogue City | Action | PS5, Xbox Series X/S, PC |
Games-Releases im Juli 2023
| | | | |
| --- | --- | --- | --- |
| Erscheinungsdatum | Spiel | Genre | Plattformen |
| 7.07.2023 | The Legend of Heroes: Trails into Reverie | JRPG | PS4, PS5, Nintendo Switch, PC |
| 7.2023 | EA Sports FC | Fußballspiel | PS4, PS5, Xbox One, Xbox Series X/S, Nintendo Switch, PC |
Games-Releases im August 2023
| | | | |
| --- | --- | --- | --- |
| Erscheinungsdatum | Spiel | Genre | Plattformen |
| 8.2023 (Early Access) | Baldur's Gate 3 |  RPG | PC |
Games-Releases im November 2023
| | | | |
| --- | --- | --- | --- |
| Erscheinungsdatum | Spiel | Genre | Plattformen |
| 10.11.2023 | The Day Before | Survival, Action | PS5, Xbox Series X/S, PC |
Verschoben ohne genaues Datum
| | | | |
| --- | --- | --- | --- |
| Erscheinungsdatum | Spiel | Genre | Plattformen |
| 2023 | Skull & Bones | Action, Adventure | PS4, PS5, Xbox One, Xbox Series X/S, PC |